REVIEW OF THE ACTIVITY SHEETS AND LESSONS FOR HOME SCHOOL HUB THE WEEK COMMENCING 18 JANUARY!
Not only is there a heads-up of what is happening in class, the worksheets to go with them for you to share with the class are here too.
This guide allows you to look back on all the activity sheets on the week beginning 18 January.
Catch up or review on RTÉ Player HERE!
Don't forget that After School Hub is on every weekday afternoon at 3.15pm. 
Monday 18/01
Home School Hub 10am
Today we discover the poems 'Yellow Butter' and 'April Rain Song' Múinteoir Ray teaches us about sensory language and how to understand poetry. 
Do you know the story of The Salmon of Knowledge? How Fionn became leader of na Fianna? Múinteoir John will teach us about these Irish myths and legends.
The human body is amazing! Múinteoir Clíona teaches us about the structure of the body's internal workings. In this case the digestive system.
The digestive system
An córas díleá
Home School Hub 11am
What is capacity? Múinteoir Ray teaches us that capacity is a measure of how much a container can hold. Want to do a fun experiment? We'll find out how many cups of water can a litre hold! 
Maths - Capacity
Mata - Toilleadh
Today with Múinteoir John, we start to think about accents and words! Do you know what Homophones are? Múinteoir John tells us about how some words that sound the same have two meanings.
English - Homophones
Béarla - Homafóin
Time to get imaginative! Today in Art are going to be making Parisian houses! Múinteoir Clíona will show us how! 
Art
Ealaín

Tuesday 19/01
Home School Hub 10am
What was it like before electricity? Múinteoir Ray teaches us about how things change and what life was like for our parents and grandparents. 
History
Stair
It's getting warmer and things are springing to life. Múinteoir John teaches us about plants. What is the life cycle of a plant? 
Science - Plants
Eolaíocht - Plandaí
Múinteoir Clíona teaches us Fractions in Maths class. Today we're going to be talking all about fractions! If you have some some coloured paper squares and you can solve all the problems with Múinteoir Clíona.  
Maths - Fractions
Mata - Codáin
Home School Hub 11am
How's the weather where you are? Does the weather affect your day? Today in Geography Múinteoir Ray teaches us about weather and how it impacts us all. 
Geography - Weather
Tíreolaíocht - Aimsir
What do you know about vikings? Múinteoir John teaches us all about how Ireland changed after the Viking invasion and how the Vikings lived. 
History - Vikings
Stair
Have you heard of Oscar Wilde? Múinteoir Clíona teaches us about what altruism is and why good deeds are really important. 
English - Altruism tree
Béarla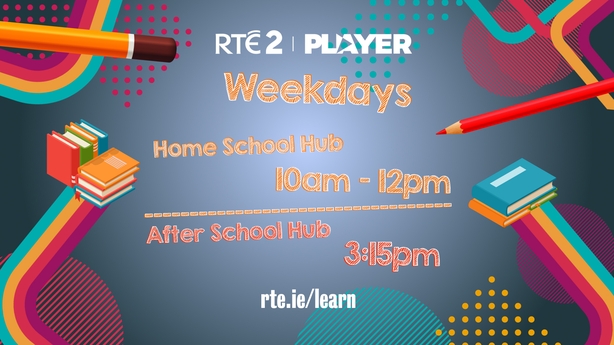 Wednesday 20/01
Home School Hub 10am
Let's get talking! Múinteoir Ray teaches us Oral Language. We'll be communicating and creating with riddles, puzzles and word games. 
English oral

Múinteoir John teaches us about vibrations! We'll understand how sound gets to our brains and discuss various sounds. We'll learn how musical notes can be created through household items like a glass and water. 
Sounds
Fuaimeanna
Múinteoir Clíona teaches all about medieval times in Ireland and abroad. What was it all like? What did they eat? What was life like for children? Let's find out! 
History
Stair
Home School Hub 11am
Múinteoir Ray teaches us all about clothes in this Irish lesson. 
Gaeilge - Éadaí
Today we learn the story of contemporary artist Keith Haring and learn to replicate drawings of the artist.
Art - Keith Haring 
Ealaín - Keith Haring
Today we're going to be talking about worries and tension and hopefully by the end of the lesson, you'll be feeling a bit better and will find a way to cope with our feelings around all of this uncertainty! 
SPHE in English
SPHE as Gaeilge

Thursday 21/01
Home School Hub 10am
We all need to care for and support one another. It is not up to one person to always look after the home, we can all help out in our own way. In today's lesson we will talk about home, communities and cooperation. 
SPHE in English
SPHE as Gaeilge
In today's Geography lesson we will learn about provinces and counties. We will learn how the provinces are split up and about the counties that make up a province. 
Geography
Tíreolaíocht
Today's lesson will talk about haikus. A Haiku is a Japanese poem that has three lines. 
English
Home School Hub 11am
We are doing some art with Múinteoir Ray this morning, printing using stencils. Ray show us how you can use everyday objects as stencils and the difference between positive and negative images. 
Art
Ealaín
Múinteoir John is here with an English class and today we learn about autobiographies. We learn how to write for a purpose and with a particular audience in mind and we Identify key information that must be included in a biography or an autobiography. 
English
And in Múinteoir Clíona's music class, we learn about the importance of pitch. We learn how tempo and dynamic choices contribute to an expressive musical performance. 
Music
Ceol

Friday 22/01
Home School Hub 10am
Múinteoir Ray is teaching us some maths this morning. We are looking at the ideas of probability and chance.
Maths - Probability and chance
Múinteoir John has a PE class for us today. It shows us, despite the current restrictions, physical activity is still possible and encouraged. We do some circuit training and remember the importance of stretching.
PE
Corpoideachas
We're learning some science with Múinteoir Clíona today as we find out that mirrors and other shiny surfaces are good reflectors of light. Plus we are going to make our own solar oven. 
Instructions to make a solar oven
Oigheann gréine
Home School Hub 11am
Múinteoir Ray is teaching us some Drama this morning by playing at make-believe and the importance of imagination! 
Drama - Exploring
Drámaíocht - Taiscéalaíoch
In Múinteoir John's Geography class, we learn all about Munster and some interesting facts about the counties within it. 
Geography
Tíreolaíocht
And in today's SPHE class, Múinteoir Clíona is going to be talking about self-image and how to draw a self-portrait. 
SPHE/ Art
SPHE/ Ealaín
If you want to share any videos or content with the teachers UPLOAD HERE
And now you can post whatever you are creating to the Hub for free: Freepost to the Hub