Images of Ireland captured in the sixties for 'National Geographic' magazine are revealed by American photographer Jim Sugar.
In 1969 National Geographic photographer Jim Sugar spent three months in Ireland travelling the country in a blue Austen sedan. In that time he shot some 300 rolls of film, each one containing 36 exposures amounting to almost 11,000 individual photographs.
While this was only Jim Sugar's second assignment for 'National Geographic', about 24 of his pictures were published as the magazine's cover story. The unpublished photographs from this Irish assignment were subsequently stored in his attic.
Four decades after his first and only visit to the country Jim Sugar returns to Ireland as the subject of an RTÉ documentary 'Summer of 69'. During this trip he revisits some of the places and faces he met in 1969 and reveals some of his unpublished photographs of Ireland.
While many of the industries and crafts he photographed, Waterford Crystal, Donegal Carpets and Arklow China no longer exist, Jim Sugar says the nature of the Irish people has not changed.
I think the sweetness of the people still remain, I think the kindness of the Irish remain, I think it's a real special part of the world.
An encounter with a funeral procession on Inisheer, the smallest of the Aran Islands, is the image Jim Sugar is most proud of.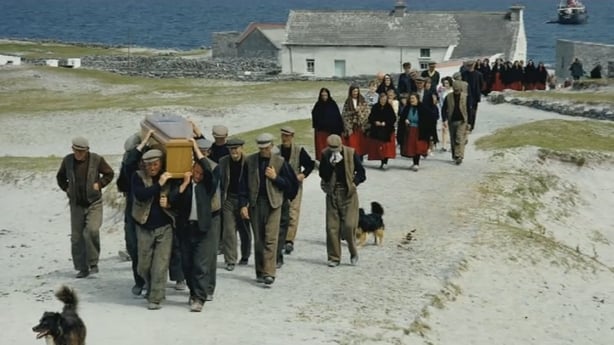 I knew at the moment that I shot that picture that that was a really special experience.
Among the other unseen pictures are portraits of the former Taoiseach Jack Lynch. On a visit to government buildings, Jim Sugar presents them to An Taosieach Brian Cowen.
The photographer also tracks down Judith Woodworth the sixteen year old girl who featured on the National Geographic magazine cover. In the intervening years, she became the director of the National Concert Hall in Dublin.
An RTÉ News report broadcast on 17 December 2009. The reporter is Samantha Libreri.