The Donegal County Library is collecting photographs that capture the people, places and life of the region.
The Donegal County Library in Lifford has a substantial archive of documents relating to the development of towns and villages in the county. Now the County Librarian, Edward McIntyre, is in the process of expanding the collection to include photographs. Following an appeal members of the public have been sending in old photographs of Donegal.
Historical records about a town or locale always benefit from a good photograph or illustration of it, and the older the better. The march of time means that changes on the landscape brought about by industry, emigration or even natural disasters gradually fade from memory, as do events that were once very much a part of life,
Who can remember the sight of large ocean liners anchored off Moville, waiting for a new cargo of immigrants to America?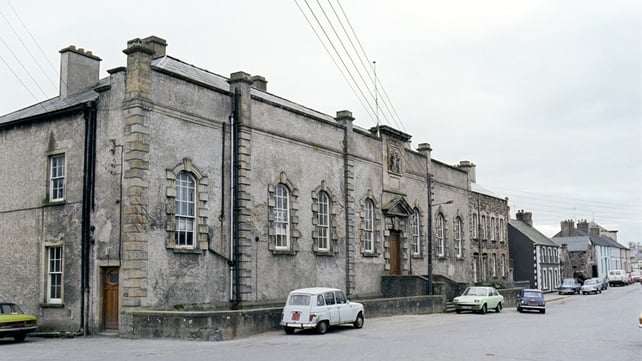 The Old Courthouse, Lifford, County Donegal (1978)
Edward McIntyre is pleased with the number of photographs and old postcards received so far, but his work on this project has only begun. To get a complete sense of Donegal history, it is important to have photographs from as wide a time span as possible in the collection,
I would welcome modern photographs as much as old photographs, because in twenty years' time the modern photograph will be an antique.
An RTÉ News report broadcast on 7 February 1979. The reporter is Donal Kelly.