A bronze statue of poet, journalist and author Patrick Kavanagh, is to be placed on the banks of the Grand Canal in Dublin.
Patrick Kavanagh was a familiar figure on the canal banks near Baggot Street. The new sculpture was inspired by Kavanagh's poem 'Lines Written on a Seat on the Grand Canal, Dublin' and was commissioned for Dublin's 1991 European City of Culture.
Figurative sculptor John Coll has been commissioned by ICI Ireland to create a life-size bronze statue of Kavanagh for a monument on the Grand Canal bank. He says his aim was to capture
First of all ... the physicality of the man, the actual shape and feel ... Secondly we wanted to capture something of the poet in the man, And finally that contemplative look which he often posed and held in similar position to this on his favourite canal bank seats.
The new bench will belong to Dublin City Council and is due to be located on the north bank of the Grand Canal on Mespil Road between Baggot Street Bridge and Eustace Bridge. President Mary Robinson will unveil the statue on 6 June 1991.
This will be the second bench dedicated to Patrick Kavanagh located along the Grand Canal. The first, a simple canal side seat, was erected shortly after Kavanagh's death on 17 March 1968 by his friends John Ryan and Denis Dwyer on the South Bank at the Lock Gates close to Baggot Street Bridge.
An RTÉ News report broadcast on 24 May 1991.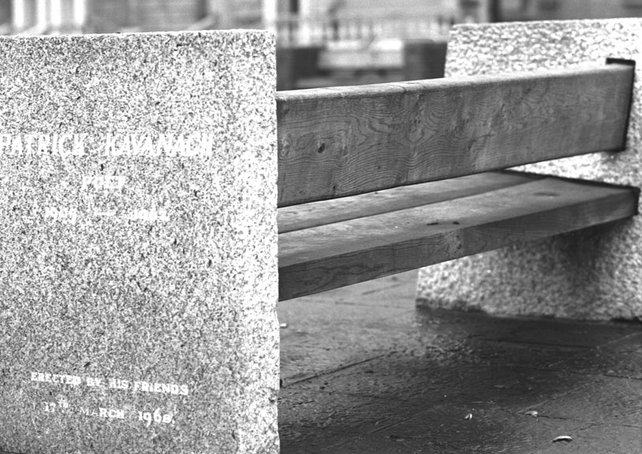 The first Patrick Kavanagh's Bench erected in 1968, photographed by Phil Dowling in January 1971 (1971)