John Minihan began shooting his hometown of Athy as an amateur photographer at fifteen.
John Minihan become an apprentice photographer with the Daily Mail and was a winner of the Evening Standard amateur photography competition.
He left Athy when he was 12 years old and while his work with the London Evening Standard has lead him around the world, he never misses a chance to return to Athy.
I can never escape Athy, I have this attachment, I don't know why but I do.
John Minihan likes to take random moments as they happen in the town and then match them with photographs he has taken previously. The most important set of pictures, and the nucleus he needed to give an overall perspective on his photographic essay on Athy, are those covering the wake of 85 year old Kathleen Tyrrell who died in 1977. He believes it to be the last wake of its kind in Athy, capturing a period of Irish life now finished.
I know they are a very important set of pictures and I think it's the most emotive thing I've ever photographed even as a newspaper photographer.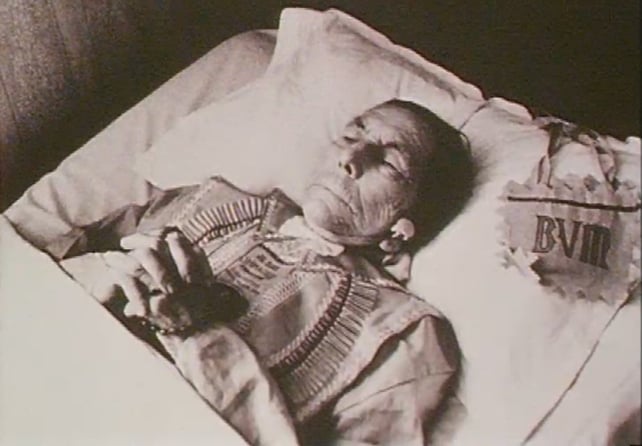 These wake photographs and other shots from Athy gained John Minihan the confidence of the notoriously reclusive writer Samuel Beckett, who in 1980, allowed himself to be photographed by Minihan in his room in London's Hyde Park Hotel. Beckett also permitted Minihan to photograph him directing 'Endgame' in the Riverside Studios in Hammersmith, London.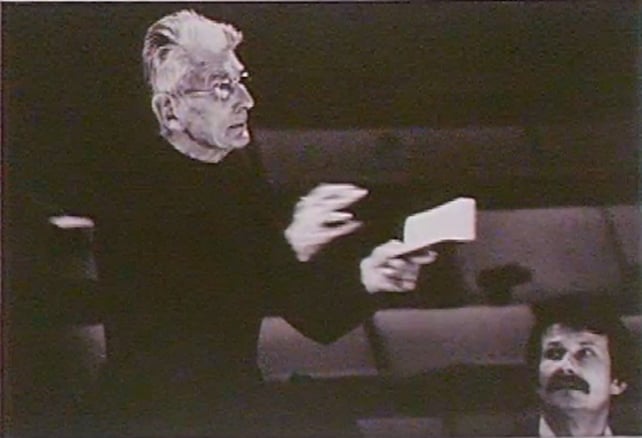 Samuel Beckett
Samuel Beckett was particularly taken with a photograph of Athy man Peter Bolan who Minihan now understands is the epitome of a Beckettian character. The two men met again over the next few years, but it was not until their 1985 meeting in the Hotel PLM in Paris, that John Minihan captured his defining photograph of Beckett.
This edition of 'Box Camera' was broadcast on 14 September 1986. The reporter is Aonghus McAnally.