Over exposure to the sun is painful in the short term and damaging in the long run.
Sunburn is a painful indication that the skin has been damaged by burning.
Sunburn as we all know is an indication of excessive, unprotected exposure to the sun.
What people do and how they spend their days has a lasting effect on their skin and its appearance. Continual unprotected exposure to the sun can lead to skin aging and skin cancer. However, skin cancer can develop even without sunburn.
The process of tanning the skin begins below the surface of the skin. It begins with the effect of the suns radiation on enzymes within the skin. The enzymes react causing tyrosine in the skin to undergo a transformation to the pigment melanin, which has the purpose of protecting the skin.
The skin turns brown simply to protect itself from the penetrating rays of the sun.
In our efforts to get a suntan, we often burn. When the skin burns, the skin has gone beyond its ability to protect itself. The result is painful in the short term and long-term damaging. The skin can blister, peel and blemish.
The damage to the skin is due to photochemical destruction of the cells and the release of toxic substances.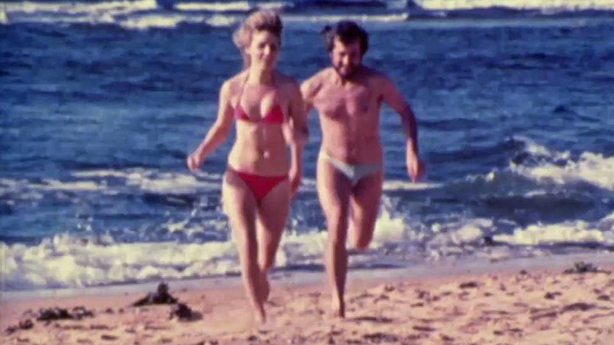 Some tanning leads to permanent skin damage in the form of premature aging and in some cases skin cancer. As such it is necessary to take precautions to protect the skin from exposure to the sun.
This summer, if you're lucky enough to see the sun, remember that its rays are both pleasant and dangerous.
'Ireland's Eye' broadcast on 14 May 1981. The reporter is Brian Black.