The politician, trade unionist and journalist William X O'Brien is remembered by his friend and fellow activist Cathal O'Shannon.
Cathal O'Shannon, pays tribute to his friend the politician, trade unionist and journalist William X O'Brien who died on 31 October 1968. Cathal O'Shannon believes William X O'Brien was,
A man of great independence of thought, great determination and great courage.
O'Brien had two allegiances, the trade union movement and the Labour movement and also to Ireland as a distinct nation, independent to Great Britain.
He hadn't the oratorical flourishes of a Larkin and he hadn't the directness or the keen logic of a Connolly, but he had very definite qualities.
Cathal O'Shannon's friendship with William O'Brien began when they were both interned in Reading Gaol after the Easter Rising of 1916. It was there that O'Brien planned the rebuilding and extending of the Irish Transport and General Workers Union (ITGWU).
On release under the General Amnesty of 1917, O'Brien played a large part in the rebuilding of the trade union and between 1917 and 1918, its membership rose to 100,000. Under O'Brien's leadership the trade union movement carried out a one day general strike against conscription in 1918.
Among O'Brien's other achievements were to keep James Connolly informed of activities in Ireland and he was instrumental in getting Connolly to return in 1910.
During the War of independence O'Brien was a link between the Labour movement and the Irish Republican Army, particularly with Michael Collins, Cathal Brugha and Richard Mulcahy.
That was a very hard thing to do and a dangerous and a risky thing to do, but O'Brien went through without any fear because he was a man of great determination and of great courage and that was done right up to the truce in 1921.
Following Bloody Sunday in 1920, Liberty Hall was raided by the Black and Tans and the Auxiliary Division of the Royal Irish Constabulary. William O'Brien and a number of others were arrested and taken to Dublin Castle. While there he overheard one of the Auxiliaries say that Cathal O'Shannon should have received the same fate as Peadar Clancy, Dick McKee and Conor Clune, who were shot dead by British guards while under detention in Dublin Castle on the eve of Bloody Sunday. Deeply perturbed by this information, O'Brien searched the town until he found O'Shannon and kept him safe.
Not one of his great achievements but one of the things I appreciate from him.
This tribute to William O'Brien was broadcast on 31 October 1968.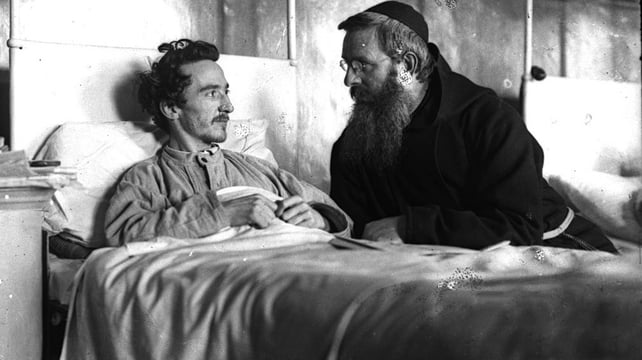 Cathal O'Shannon, following a hunger strike, is visited by Father Augustine Hayden in the Mater Hospital in May 1919.