Plans have been announced to demolish Liberty Hall, Dublin's first skyscraper, the capital's largest building and the headquarters of (SIPTU).
Liberty Hall designed by Desmond Rea O'Kelly was constructed between 1961 and 1965. The General Secretary of Services Industrial Professional and Technical Union (SIPTU) Joe O'Flynn says members have agreed to actively pursue proposals to knock down the 16 storey tower and its adjoining buildings and build a new structure on the same site.
While the option to refurbish the existing building or to sell the site was looked into, the latter option was never really an alternative, given the historical significance of the site. Historian Pat Liddy explains,
The 1913 lockout was planned from here, the 1916 Rising was planned from here... it's so important to the growth of trade unionism and the independence struggle in Ireland.
Dubliners will have a chance to visit Liberty Hall when it is part of the 'Open House' architecture festival which allows the public to view buildings that are normally off-limits.
An RTÉ News report broadcast on 19 October 2006. The reporter is Martina Fitzgerald.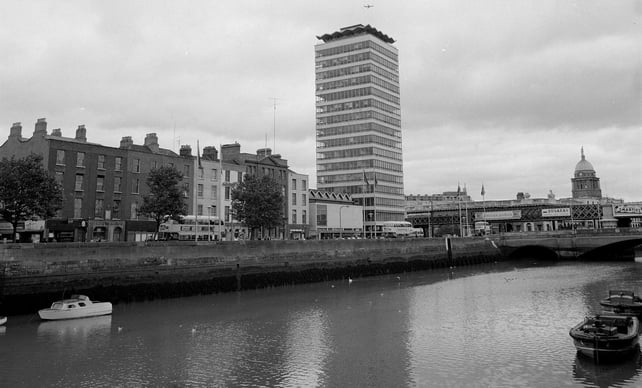 Liberty Hall in 1967.