Ernest Blythe pays tribute to General Richard Mulcahy who died on 16 December 1971.
In the 1918 general election Ernest Blythe was elected as Sinn Féin T.D. for North Monaghan. He accepted the Anglo-Irish Treaty and was Minister for Finance in the Provisional Government. He considers Richard Mulcahy to be,
One of the most distinguished and effective fighters for Irish Freedom.
He praises Mulcahy's role in the Battle of Ashbourne in County Meath, one of the few military actions of the in 1916 Rising to take place outside Dublin. The 5th Battalion of National Volunteers were led by Commandant Thomas Ashe with Mulcahy as his second in command and this is where his reputation for effectiveness and judgement in military affairs began.
Richard Mulcahy was a
Modest man, he was not in any way flamboyant and he served the country with great distinction, with great effectiveness, and without ever intruding himself on his colleagues or on the public generally.
Richard Mulcahy was born in Waterford in 1886. He was a member of the IRB and joined the Irish Volunteers on their formation in November 1913. Arrested after the surrender in 1916 Mulcahy was imprisoned in Richmond Barracks, Knutsford Detention Barracks, Cheshire and Frongoch Internment Camp, Wales. He was a member of Dáil Éireann and during the War of Independence was Chief of Staff of the Irish Republican Army (IRA). He supported the Anglo-Irish Treaty and following the death of Michael Collins in the Irish Civil War, succeeded him as Commander in Chief of the National Army and was also Chief of Staff. He was a founding member of the Cumann na nGaedheal party and was later leader of the Fine Gael party.
An RTÉ News report broadcast on 16 December 1971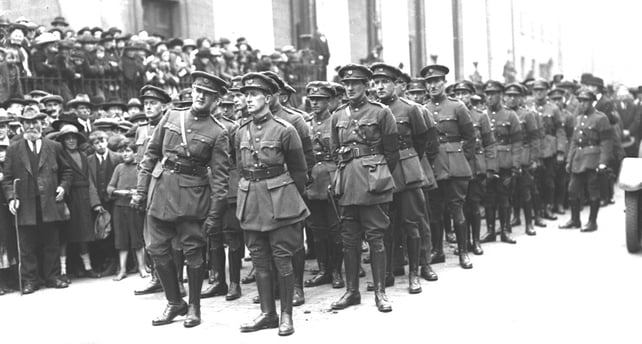 Michael Collins and Richard Mulcahy (front row) at the funeral of Arthur Griffith in 1922.