A television dramatisation of events that led to the Anglo-Irish Treaty of 1921 is in production at the Mansion House.
The filming of an RTÉ and Thames Television drama 'The Treaty', tracing events leading up to the signing of the Anglo-Irish Treaty on 6 December 1921, got underway at Dublin's Mansion House.
With a budget of a million pounds and a strong Irish cast, filming will mostly take place in Dublin city over a five week period. The drama has given scriptwriter Brian Phelan a great opportunity to investigate a period of history he knew very little about.
A lot of people will be surprised when they see the film to see actually what went on during those those ten weeks instead of all the myths that have grown up around what may have gone on.
Actor Brendan Gleeson is delighted to have the opportunity to play Michael Collins
Who was a very fascinating character.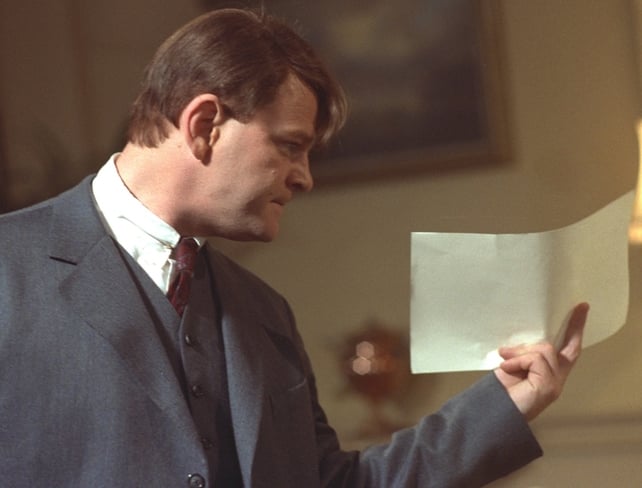 Brendan Gleeson as Michael Collins
Director and producer Jonathan Lewis believes that the drama is timely in the light of new problems facing talks between the political parties in Ireland and England. Given the contentious subject, he also thinks it is an extremely important film to be making as a co-production between the two countries, although he admits
So far this co-production has been slightly easier than the original talks.
An RTÉ News report broadcast on 11 August 1991. The reporter is Bob Powell.