Ahead of the Munster Final a look at the Waterford desire for hurling success and hope to end a barren spell.
In the week before the Munster final, 'Ireland's Eye' visits Waterford to gauge the mood and hope that the county can once again emerge as a major power in hurling.
It is 19 years since Waterford last won the Munster title. Pat Butler meets some of the men who played for Waterford in the period 1957 to 1963 to get their thoughts on the forthcoming final.
Former player Tom Cheasty is hopeful for a Waterford win and says it would be good for hurling. Tom's former team mate Mick Flannelly recalls those glory days of Waterford hurling and the team's style of play.
For five or six years we did produce some very good hurling.
Another former player Jim Irish talks about the threat that Waterford face against Cork next Sunday. He says Cork are very strong around midfield but is optimistic that Waterford will win. He believes this Waterford team are on the verge of something great.
A Christian Brother recalls players Dickie Roche, Martin Óg Morrissey, Philly Grimes, Séamus Power, Mick Flannelly and Frankie Walsh who brought success to Waterford hurling in the late 1950s and early 1960s.
These old players, they could make a sliotar talk.
Young pupils from St Saviours in Mount Sion are inspired by a new crop of heroes including John Galvin, Stephen Greene, Jim Greene and others who have helped to revitalise Waterford's hurling fortunes.
The GAA is flourishing in Waterford with a new generation of young players being inspired by the success of the county team. Guided by county youth officer Phillip Fanning hurling is growing in popularity in Waterford.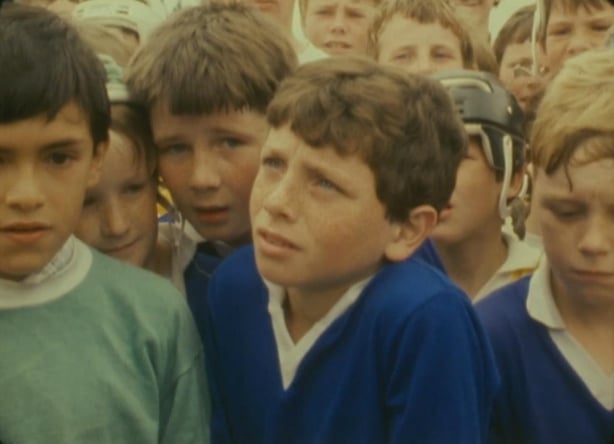 Some young players give their predictions for the outcome of the Munster final and what the Waterford team will face from the Cork players. Despite the challenge they predict a Waterford win.
Waterford got to the Munster Final with a one point against win Limerick. During training in Dungarvan, Jim Greene says that the team feels a sense of responsibility to the people of Waterford. Team captain Pat McGrath believes that Cork have more to worry about than Waterford. He sees a complete team effort from Waterford and is confident that they will be victorious.
The Munster Hurling Final between Cork and Waterford took place at Semple Stadium in Waterford on 18 July 1982. Cork beat Waterford 5-31 to 3-6.
This episode of 'Ireland's Eye' was broadcast on 14 July 1982. The reporter is Pat Butler.