RTÉ launches www.rte.ie and the Late Late Show is made available worldwide on the internet.
Gay Byrne chats live on air with a 'Late Late Show' viewer in the USA, an Irish Motorola engineer who has been living and working in Phoenix, Arizona for 13 years. John Piggott originally from Clonskeagh in Dublin is watching the show live via the internet. He describes to Gay what he can see on his screen as,
A small fuzzy picture
Brendan O'Carroll is a guest on the Late Late Show on the evening and joins in the transatlantic chat with John.
One for everyone in the audience
Prior to the phone call to mark the launch of www.rte.ie Gay Byrne gives everyone in the studio audience an up to the minute Free Internet Start Up Access Kit.
The episode of 'The Late Late Show' was broadcast on 24 May 1996. The presenter is Gay Byrne.


The website www.rte.ie allows internet users worldwide to have access to several RTÉ Radio programmes, news, sport and entertainment. A number of RTÉ programmes already had an online presence on the internet in 1996. The launch of rte.ie meant that all of these existing sites could now be found under one domain - www.rte.ie.
An RTÉ News report by Colm Connolly was broadcast on 24 May 1996.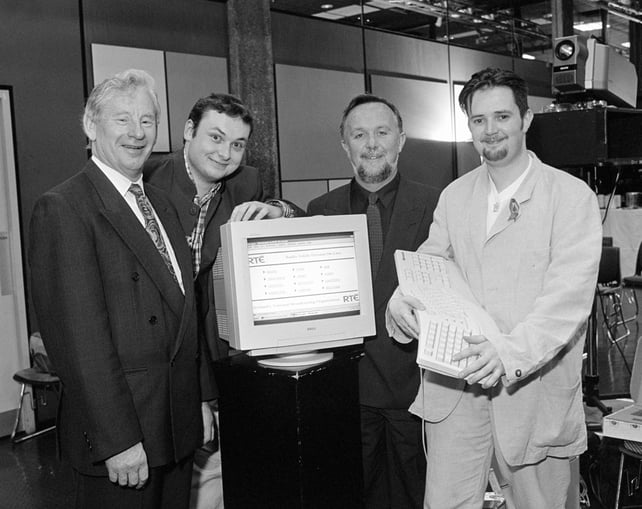 Launch of RTE.ie on 24 May 1996
Pictured at the launch of the RTÉ website, www.rte.ie, on 24 May 1996. From left to right; RTÉ Director-General Joe Barry, executive webmaster Declan Caulfield, Group Head of Programme Services Television Eugene Murray and webmaster John McMahon. Photo by Thomas Holton.