President of Ireland Éamon de Valera officially opens the new Abbey Theatre in Dublin.
Speaking from the stage of the new theatre, President de Valera addresses the audience in both Irish and English and formally declares the new Abbey Theatre open.
The president was among a distinguished audience at the official opening of the new building exactly fifteen years to the day since the old Abbey was destroyed by fire.
President de Valera expresses, on behalf of the people of Ireland, good wishes for the future of the theatre. Already known for its work throughout the world, the he is hopeful that it will continue to build on this reputation.
Keeping his speech brief, President de Valera pokes fun at himself and his reputation for "exhaustive" and "exhausting" speeches.
He goes on to thank all those that have made the new venture possible including the chairman of The Abbey Theatre and successive governments.
It is a great encouragement to have this theatre for our young authors and of course, it's a godsend for those who want to learn the Irish language.
A special presentation titled 'Recall the Years' was devised to mark the opening of the new theatre. Built on the site of the old theatre the new Abbey seats 100 more people. The building is four stories high with the stage rising 73 feet above ground.
An RTÉ News report broadcast on 18 July 1966.

This footage shows people gathering outside the new Abbey Theatre including Eamonn Andrews, and Lord Mayor Alderman Eugene Timmons. As President de Valera arrives he is greeted by Ernest Blythe. This was broadcast as part of the RTÉ News report. The footage shown here is mute.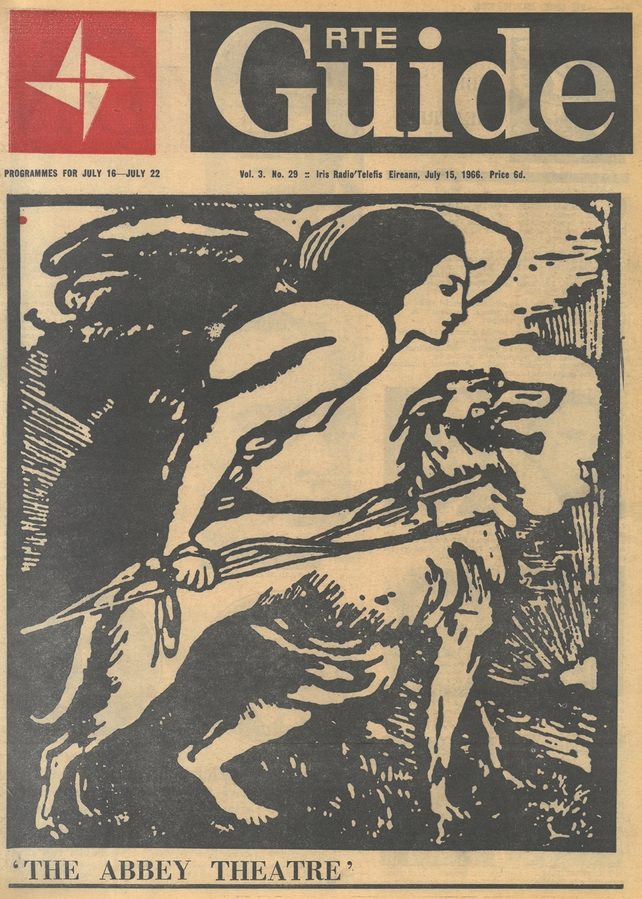 RTÉ Guide, 15 July 1966
The New Abbey Theatre is featured on the cover of the RTÉ Guide.