Rosie Hackett's lifelong involvement in the trade union movement began as a teenager when she was working in Jacobs' biscuit factory in Dublin.
Rosie organised the women workers there to strike successfully for better working conditions and pay in 1911. Shortly afterwards, she co-founded the Irish Women Workers' Union (IWWU).
In this radio extract, Hackett remembers being the only woman present when the 1916 proclamation was printed in Liberty Hall, where she worked as a clerk for the IWWU after losing her job in Jacobs for her part in the 1913 lockout. Even Madame, as the Countess Markievicz was known, wasn't allowed in and "was kicking up a row", Hackett tells Donncha Ó Dúlaing in 'Women of the Revolution', first broadcast on 12 April 1971.
One of the IWWU's major victories was the women laundry workers' strike of 1945. They won the right to a fortnight's holiday, which was eventually extended to all workers.
The accompanying image shows women workers on the production line at the Telectron electronics factory in Tallaght, Dublin, in 1971. The photographer was Eve Holmes.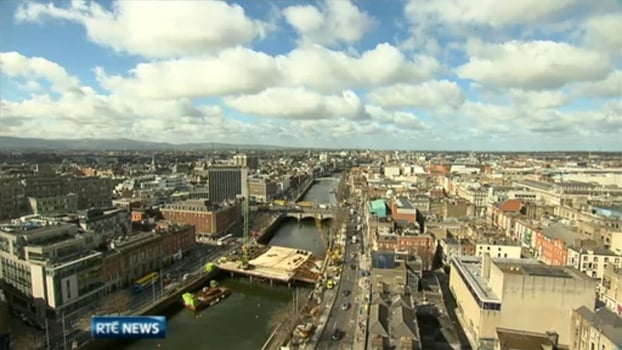 Rosie Hackett bridge under construction