John Swift recalls Jim Larkin and the establishment of the Irish Transport & General Workers Union.
On 26 August 1913 members of the Jim Larkin lead Irish Transport & General Workers Union withdrew their labour and the trams stopped running in Dublin.
The workers were protesting against a demand from their employer, to sign a pledge to leave the union. They faced the choice of giving up union membership or being sacked. This marked the beginning of the 1913 Dublin Lockout which would ultimately involve 20,000 workers and 300 employers.
Here John Swift a member of the Irish Bakers, Confectioners & Allied Workers Union recalls the kind of man and motivator that Jim Larkin was,
We were captivated by Larkin...he had a most compelling presence...and of course he was a great orator.
'Awaiting the Revolution 75 Years of the ITGWU' broadcast 29 November 1984.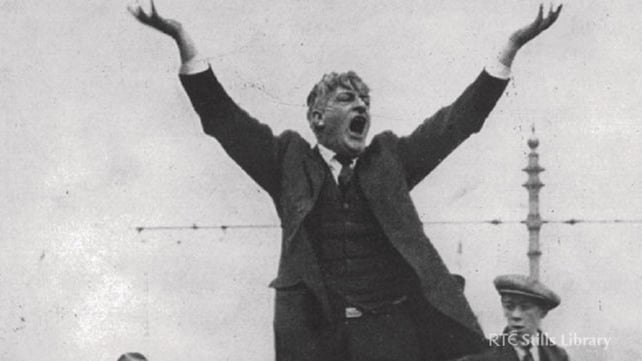 'Big' Jim Larkin, addresses a crowd on Dublin's O'Connell Street