O'Connell Street in Dublin is the scene for a recreation of a union rally that was broken up by the Dublin Metropolitan Police during the 1913 lockout.
A pageant in the city centre was held to mark 80 years since the 1913 Dublin lockout. The re-enactment included a baton charge by police on the workers and the famous address by Jim Larkin a window of the Imperial Hotel. 'Big Jim' Larkin is played by actor Jer O'Leary and TD Tony Gregory plays the role of a police victim, who addresses the crowd outside Clery's Department Store opposite the GPO.
I was battened to death on O'Connell Street for demanding the right to join Larkin's union. It was to have been a peaceful meeting. We were here to protest against the lockout.
The event was organised by the North Inner City Folklore Project.
An RTÉ News report broadcast on 29 August 1993.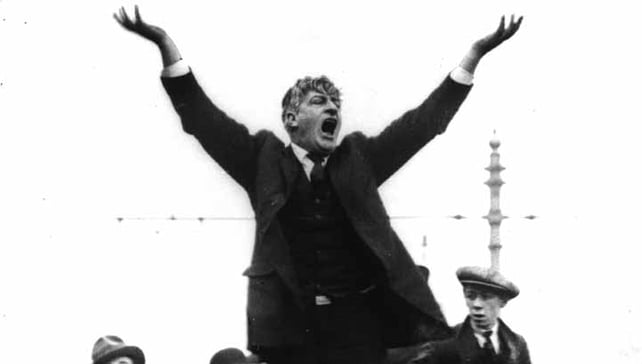 Jim Larkin (1913)