Strumpet City depicts life in Dublin between 1907 and 1914, a period of major labour unrest.
Strumpet City's theme is the life of Dublin's working classes.
comments Tom McGurk in the opening sequence of this episode of 'Folio' from 1980.
Tom McGurk chats to author of 'Strumpet City'James Plunkett, and Hugh Leonard, who adapted the book for television.
James Plunkett describes the genesis of Strumpet City, from the influence of his childhood years to sharing an office with Jim Larkin. Plunkett also comments on his delight with the adaptation of his work from page to screen.
Hugh Leonard's love for the book spurred his adaptation for television commenting
I call it a meat and potatoes book, there's a good storyline, marvellous characters, and wonderful scenes, set pieces which makes it a joy and relatively easy to adapt. It becomes a question of selection, compression and very little alteration indeed.
This extract was from Folio first broadcast 25 April 1980.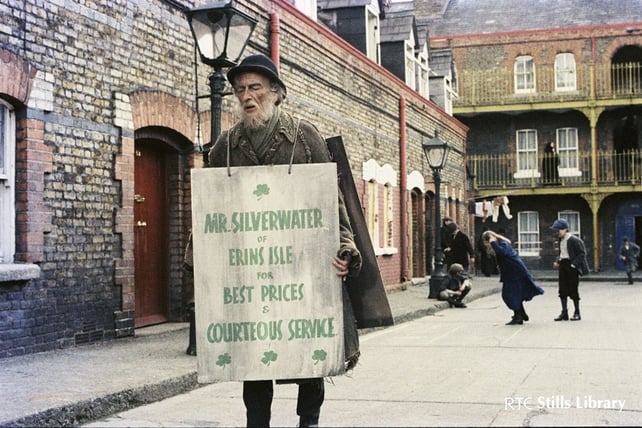 David Kelly in 'Strumpet City' (1979)
'Strumpet City' is a best-selling novel by James Plunkett set in Dublin between 1907 and 1914, a period of major labour unrest. The novel was adapted for RTÉ Television by Hugh Leonard. Shown as seven episodes in 1980, the series was directed by Tony Barry and the notable cast featured Peter O'Toole, Peter Ustinov, David Kelly and Bryan Murray.
In 2003 the series was digitally remastered by RTÉ Television Archives and rebroadcast.