Violent clashes between the Dublin Metropolitan Police and striking workers recreated for a television production of Strumpet City.
O'Connell Street in Dublin is the site of a dramatised re-enactment of the Dublin Metropolitan Police baton-charging passers-by and union supporters during the 1913 lockout, for the RTÉ adaptation of 'Strumpet City'.
The Lockout began on 26 August 1913 as the result of a clash between trade unionist James Larkin and leader of the employers William Martin Murphy.
'Strumpet City' producer director Tony Barry gives last minute directions to the crew, actors and extras on a cordoned off O'Connell Street. Peter O'Toole plays union leader James Larkin. Disguised as a stooped old man, he enters the William Martin Murphy owned Imperial Hotel in defiance of a police ban to address the workers. Revealing his true identity he makes a rousing speech before being arrested. Then,
The police panic and batons fly.
'Strumpet City' is a best-selling novel by James Plunkett set in Dublin between 1907 and 1914, a period of major labour unrest. Adapted for RTÉ Television by Hugh Leonard, 'Strumpet City' was broadcast as seven episodes in 1980.
An RTÉ News report broadcast on 17 June 1979.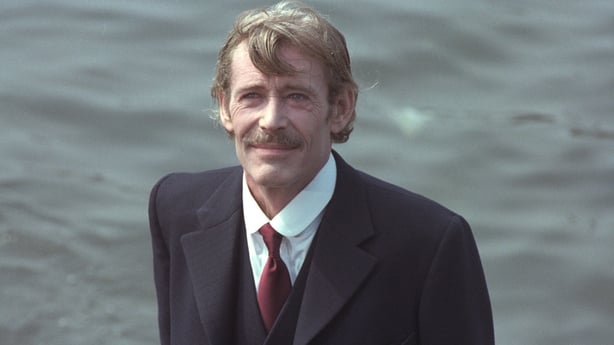 Peter O'Toole as James Larkin.