Marking the 80th anniversary of the Dublin lockout and the fight for workers' rights to unionise.
Big Jim Larkin and James Connolly established the Irish Transport and General Workers' Union (ITGWU) to defend the rights of workers.
The great are not great.
The great only appear great because we are on our knees.
Let us arise.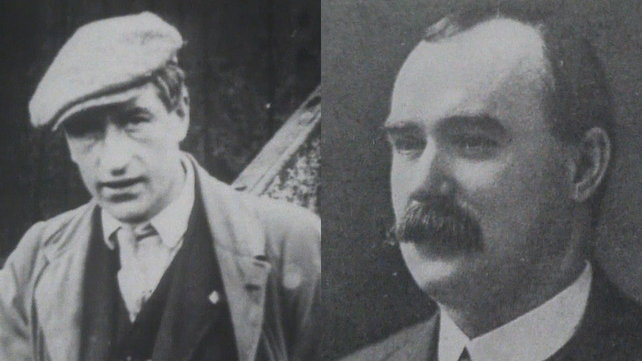 Jim Larkin and James Connolly
In September 1913 Jim Larkin took on the owner of Dublin Tramways William Martin Murphy in an effort to have the ITGWU recognised. However, it was not to be and Murphy locked out the workers resulting in a general strike bringing months of hardship to the slums of Dublin. After six months, the workers returned to work having gained nothing but William Martin Murphy had failed to break the union.
One result of the lockout was the formation of the Irish Citizen Army, which contributed to the Easter Rising of 1916.
Lord Mayor of Dublin Tomas Mc Giolla compares the conditions for workers in 1913 to the conditions today.
In this city today, 1993, there is a struggle going for precisely the same thing - trade union recognition in the workplace.
The events were organised by the 1913 Commemoration Committee.
An RTÉ News report broadcast on 20 August 1993. The reporter is Michael O'Kane.