A ceremony at Arbour Hill Cemetery marks the 47th anniversary of the execution of James Connolly.
Members of the trade unions affiliated to the Dublin Council of Trade Unions and of the Bray Trades Council parade to Arbour Hill Cemetery following Mass in Saint Mary of the Angels, Church Street, and an Anglican service in Saint George's Church, Temple Street.
Wreaths are laid at the grave of James Connolly by John Conroy, General President of the Irish Transport and General Workers Union (ITGWU) and Patrick Donegan, President of the Dublin Council of Trade Unions. A decade of the Rosary in Irish is recited at the graveside.
IRA (Irish Republican Army) and Citizen Army veterans fire volleys of shots over the graves where the remains of Connolly and the other 1916 leaders are interred.
The ceremony was organised by the trade union movement.
An RTÉ News report broadcast on 12 May 1963. This footage is mute.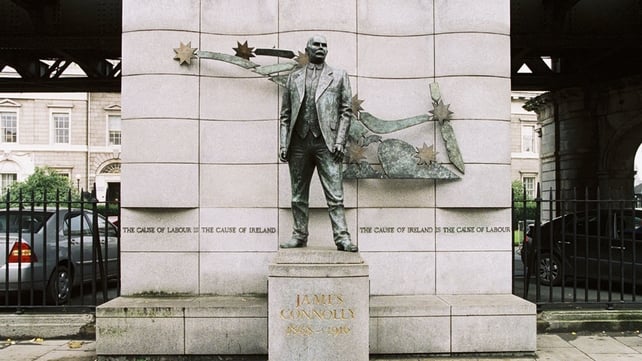 James Connolly statue on Beresford Place, Dublin (2005)