On the eve of his 61st birthday, Ronnie Drew announces plans to embark on a solo career and confirms that he is leaving 'The Dubliners'.
He says he's leaving The Dubs
Ronnie Drew performs 'Eurolations' and joins Gay for a brief chat confirming that he is to leave The Dubliners. He will perform a number of dates with the band across Europe and will leave the band on 10 December after 33 years. Ronnie explains that for the last few years he has wanted to do something a little different and remains friends with the rest of The Dubliners who have all wished him well as he embarks on his new career as a solo artist.
The Beatles only lasted ten years so if last five, I'll be doing well.
Gay leads the audience as they sing 'Happy Birthday' to Ronnie.
The track 'Eurolations' featured on the album 'Dirty Rotten Shame' released in 1995.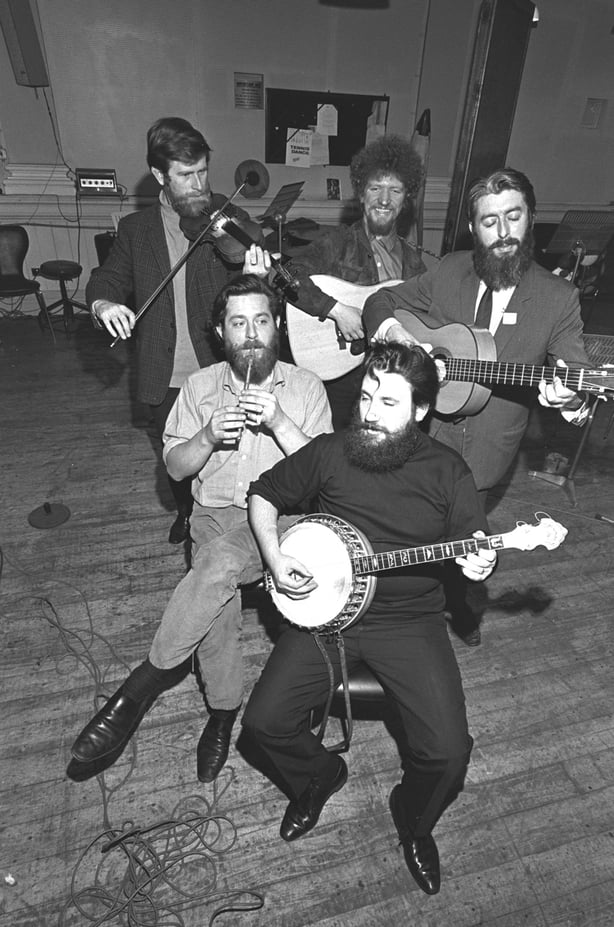 The Dubliners in O'Connell Hall (1967)
Photo features John Sheahan on violin/fiddle, Luke Kelly on guitar and Ronnie Drew playing the guitar, Ciarán Bourke on tin whistle and Barney McKenna on banjo. Photo by Roy Bedell. They were recording a programme for 'Ballads of a Saturday', a fifteen-minute programme broadcast on Saturday mornings on RTÉ Radio.
This episode of The Late Late Show was broadcast on 15 September 1995. The presenter is Gay Byrne.