O'Donoghue's pub in Dublin is known for its music, craic and conversation, but what makes it so special?
Singer with folk group The Dubliners and an expert on drink and pubs Ronnie Drew pays a visit to O'Donoghue's Bar on Merrion Row in Dublin. This pub is a popular haunt of traditional Irish musicians and The Dubliners began performing there in the early 1960s.
The Dublin pub is internationally renowned for its music, craic and conversation. So, just how special is it?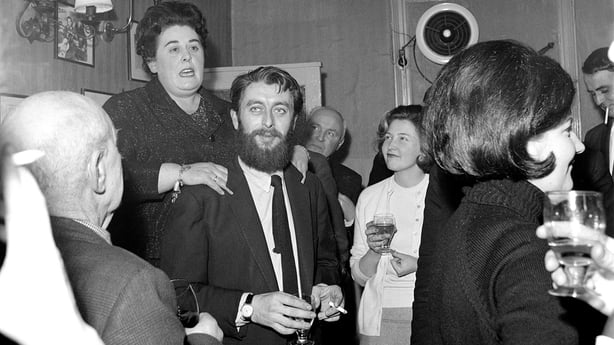 For Ronnie Drew the Dublin pub is a place to meet, drink and tell a few yarns. Until recently people did not come to the pub to eat and Ronnie is unimpressed when he finds the bar crowded with people ordering soup and sandwiches.
Another difference between the Dublin pub of old and the modern experience is the amount of choice available to drinkers. In the past, a pint simply meant stout.
Ronnie Drew admits his love for O'Donoghue's is completely subjective,
I like this pub and it hasn't changed over the years.
But he also recommends Doheny and Nesbitt across the road on Baggot Street and Kehoes Pub on South Anne Street.
That's a real pub I think.
One of Ronnie Drew's friends recently remarked that writer Brendan Behan has a lot to answer for because Dublin pubs are full of people who think they are great wits,
Delivering the immortal one liner that turns out to be very mortal indeed.
But in every Dublin pub, there are humorous people who are great company.
The RTÉ Television series 'Holiday '90' promotes Irish tourism and is presented by Barbara McMahon and Nick Coffey.
This episode of 'Holiday '90' was broadcast on 1 June 1990. The reporter is Nick Coffey.