Exhibitions at the Irish Whiskey Museum tell the story of Irish whiskey, from its worldwide popularity in the 1800s to the brands that are still on sale today, such as Jameson and Bushmills.
The Jameson story is also told nearby in the Old Jameson Distillery in Smithfield, where visitors can experience the traditional distilling process.
The 1988 documentary 'Whiskey with an E' looked at the history of whiskey and the folklore surrounding it. In the opening sequence presenter Eamon Morrissey visits the town of Listowel, which has 55 pubs, one of them owned by writer John B. Keane. The sales of 'brown spirits' may be dropping all over the world, but in Keane's pub, 'there still are the remains of ould decency'.
'Whiskey with an E' was broadcast on 19 January 1988.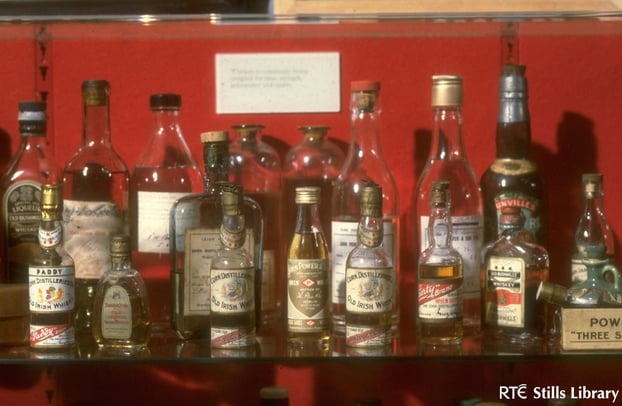 Bottles of whiskey photographed in 1984.