Newspaperman Paddy Bolger reflects on the changes that have taken place in the Dublin pub.
According to Paddy Boger the demise of the old publican, who in certain circumstances would allow patrons to have beer in advance of payment, is one of the worst things to happen to Dublin pubs.
The personal business between the publican himself and the customer just disappeared completely.
Women drinking in pubs changed not only the decor but also the service and the types of drinks served in Dublin pubs.
The ladies of course had to have the most expensive drinks they could, not caring less where you got the money from to buy it.
With women drinking in the pub, men needed to improve their manners, and Paddy is unhappy he now has to politely sip his pint rather than drinking it down in two gulps. He frowns upon the distracting effect women clad in mini-skirts have on his male drinking companions. He also somewhat disapproving of young women drinking in pubs,
It's obvious that some of them are of tender years and shouldn't be allowed inside of the premises, never mind served with drink.
The first lounge bar Paddy can recall in Dublin was in Marlborough Street. With its modern fixtures and fittings, it was considered to be.
Real posh.
Drinks in this bar were slightly more expensive to encourage an exclusive clientele. This pub was largely avoided by the ordinary man but was responsible for the emergence of the lounge lizard, a musician who plays in bars.
From singing pubs grew pubs hosting proper events with a Master of Ceremonies and a piano. In one lounge the band performing are fronted by singer/songwriter Shay Healy.
Paddy was not happy when the traditional pub game of rings was replaced by a dartboard, or worse still, table football. However, in spite of all his criticisms, Paddy concludes that
I'd sooner have the modern pub, before the old one, because secretly I love to see the lady there.
Pubs featured in the clip include Davy Byrnes and The Bailey on Duke Street and Mulligan's on Poolbeg Street.
This episode of 'Newsbeat' was broadcast on 16 April 1968.
'Newsbeat' was a half-hour feature programme presented by Frank Hall and ran for 7 years from September 1964 to June 1971. 'Newsbeat' went out from Monday to Friday on RTE television and reported on current affairs and issues of local interest from around Ireland. The final programme was broadcast on 11 June 1971.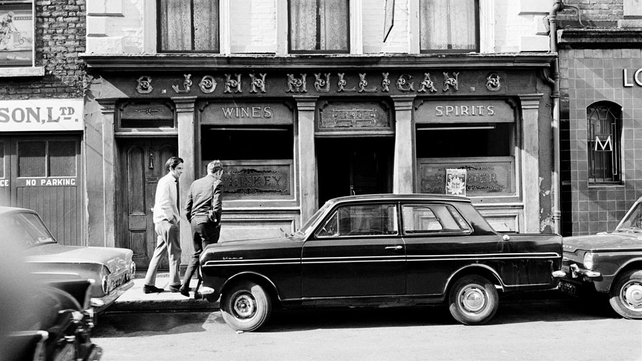 Mulligan's pub in Poolbeg Street, Dublin.