The oldest working publican in Ireland does not drink, refuses to serve women, sells no Guinness, and closes his doors at 10pm.
Teetotaller Tom Maher of the Moondharraig House, O'Connell Street, Waterford, has been pulling pints in the family pub since 1929. He also runs one of the few male only pubs in the country, and his unique philosophy means,
I don't want to see anyone too early, too late, or too long.
The eldest of a family of 4, he was born in the family home above the bar, where his father, also Thomas Maher, was the publican. His wife Mary also serves behind the counter. Tom Maher is not anti-women by any means, but when ladies do cross the threshold, they are politely escorted back out again. Why?
Strong men, stronger drink...long hours and short skirts, a dangerous combination.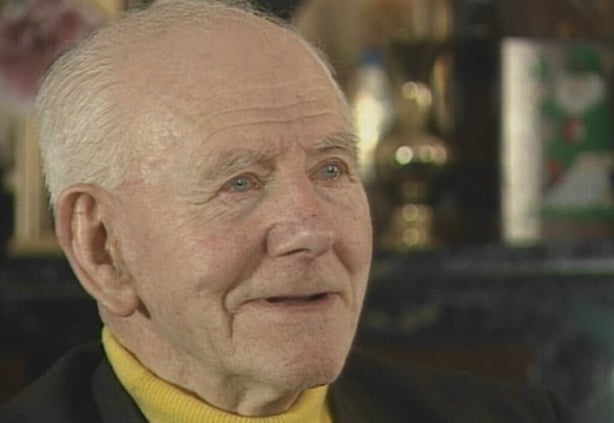 Tom Maher (1999)
Tom Maher has had his house rules tested in the past, especially when a parish priest came in with his housekeeper. On another occasion, the pub was picketed by people who did not agree with the men only policy. Falling ill unexpectedly meant Tom Maher avoided any potential unpleasantness and he still stands firm on who he will serve,
All we do is hand out the drink in small doses to men only...Before you get drunk, the time's up.
The location of Moondharraig House on O'Connell Street and the footfall of such a central location in Waterford and the loyalty of its customers must be the envy of many other public houses in the city. Danny Hanrahan is one patron who appreciates how well he is looked after.
If it's not too busy, my pint will arrive at the hatch there, before I arrive at the hatch.
The specialities of the house include a whiskey mac at £1.40 a shot, and a pint of stout at £1.60, and Tom Maher's own blend of whiskey, a recipe he has perfected over the past 70 years.
Grateful for his long and happy life, Tom Maher has no plans for retirement,
I'd sooner wear out than rushed out.
This report for 'Nationwide' was broadcast on 12 September 1999. The reporter is Michael Bance, with an introduction by programme presenter Michael Ryan.