John Sheahan tells his side of The Dubliners story.
'John Sheahan: A Dubliner' is a revealing and beautifully made portrait of a man who was an integral part of the national institution that is The Dubliners. As Barney McKenna once said, John is the "memory chip", the part of the band who never forgets, "the mortar between the bricks" that kept the band together.
At the age of 25, he was set up for life with a pensionable job as an ESB draftsman. He worked by day and played music by night. In 1964, to the dismay of his father who was a member of An Garda Síochána, he packed in the day job to go full time with The Dubliners.
Produced by Scratch Films and directed by Maurice Sweeney, John Sheahan: A Dubliner is a treasure trove of rare Dubliners archive.
In this excerpt from the documentary John speaks about early piper's clubs, learning traditional tunes, his friendship with Barney McKenna, first hearing Ronnie Drew sing, the talent and humour of Luke Kelly, and The Dubliners.
'John Sheahan - A Dubliner' was first broadcast on 15 April 2013.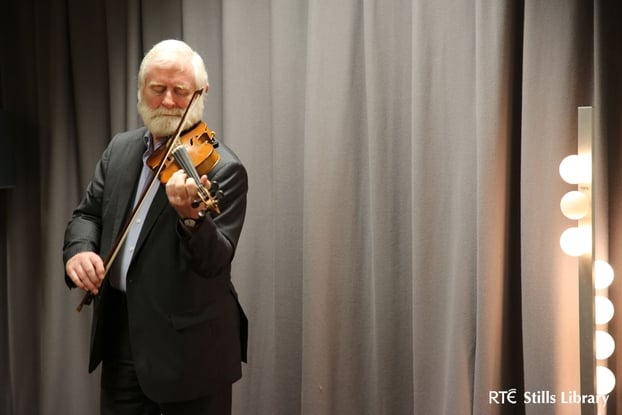 John Sheahan behind the scenes at The Imelda May Show (2014)