Luke Kelly recalls meeting Patrick Kavanagh in The Bailey pub where the poet told him he had a song for him.
'On Raglan Road' was written by Patrick Kavanagh as a poem and was set to the music of the traditional song 'The Dawning of the Day' (Fáinne Geal an Lae).
You should sing Raglan Road
Luke Kelly singer with The Dubliners describes how Patrick Kavanagh suggested he should sing 'On Raglan Road'. Luke Kelly sings and plays banjo performing the ballad accompanied by Al O'Donnell on guitar.
This recording was made in Studio 1 in RTÉ in July 1978.
This episode of 'Humours of Donnybrook' was broadcast on 10 January 1979.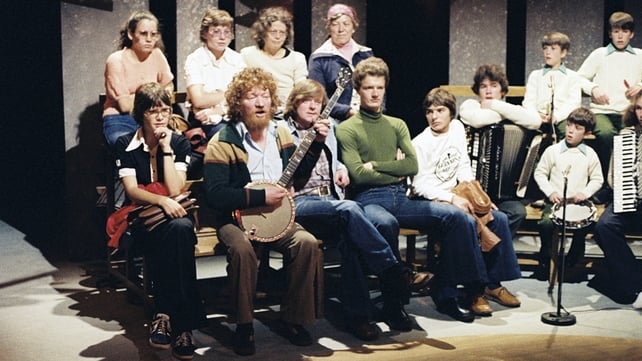 Luke Kelly on Humours of Donnybrook. Photo by Mary Lee (1979)
'Humours of Donnybrook' was a series of traditional Irish music programmes presented by Ciarán Mac Mathúna and produced by Peter Canning.