Plans to build a cathedral in Merrion Square on hold as the Catholic Church gives the keys of the park to Dublin.
Most Dubliners are familiar with Merrion Square but have never been inside its railings as the park has been closed to all but residents of the Square.
Up until now the park has been closed to all but the residents of the square.
The Earl of Kildare commissioned the layout of Merrion Square in 1762 and it became a fashionable address for the aristocracy and the professional classes. It is the second largest square in Dublin after Saint Stephen's Green. Former residents of Merrion Square include political leader Daniel O'Connell and poet and playwright Oscar Wilde.
In 1930 Archbishop Byrne bought Merrion Square for £10,000 as a site for a Roman Catholic cathedral, however this project never materialised.
On the night before the handover ceremony, vandals broke into the lodge behind the Rutland Memorial and caused considerable damage. However the handover went ahead as planned. The Archbishop of Dublin Dermot Ryan presented the key to the Chairman of Dublin City Commissioners Fred Mullen who then opened the gate to the public.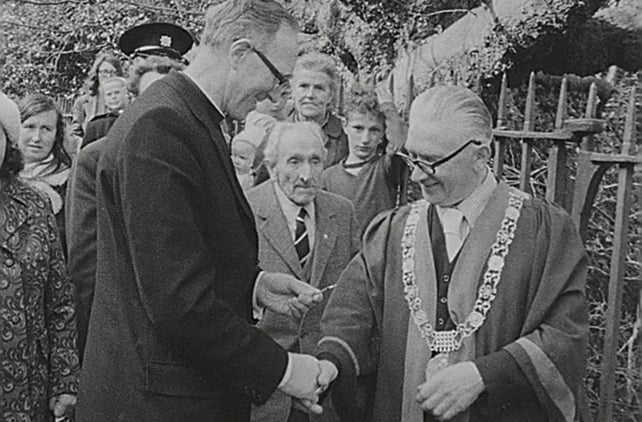 If any future Archbishop wants to take back the 12.5 acres to build a cathedral, Archbishop Ryan believes there will still be enough room for a public park.
Dublin Corporation plan to spend £20,000 on improvements, but the park will maintain its distinctive character.
An RTÉ News report broadcast on 5 April 1974. The reporter is Barry Linnane.