What now for the residents of Georgian buildings in Dublin that are due to be pulled down?
The RTÉ television series 'Sixty Four' broadcast looks at the housing situation in Ireland's capital city.
This programme looks at the history of Georgian Dublin. By 1964 many of the Georgian buildings in Dublin city centre, which were built in the 18th century, were falling down, being demolished or both.
Once the proud townhouses and residences of the wealthy, the decorated ceilings are now falling down.
Many of the landlords of these Georgian buildings claim that the tenants themselves have deliberately damaged the properties in order to get them condemned and moved out to new corporation housing estates in the suburbs.
John O'Donoghue meets some of the residents of these properties, which are now largely in slum condition. The residents talk about the living conditions in these properties. Some talk about their new homes in the suburbs, while others face a more uncertain future.
'Sixty Four' was a current affairs programme broadcast weekly throughout 1964. The programme covered major news topics from at home and abroad. Each programme was 30 minutes long and mixed studio discussion with film reports.
This episode of 'Sixty Four' was first broadcast on 16 January 1964. The reporter is John O'Donoghue.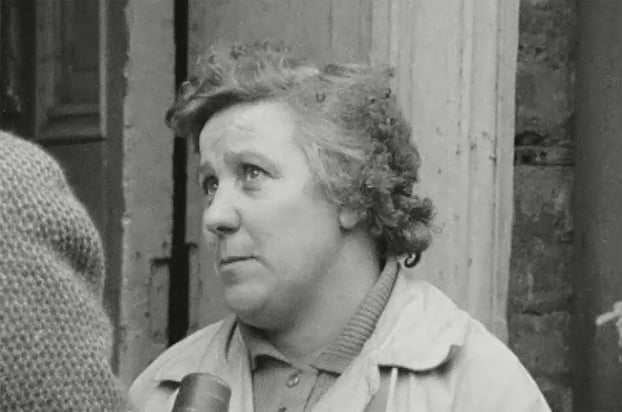 Woman speaking about her move from Dublin city centre to new housing in Finglas.