When will residents of new homes see the completion of work on unfinished housing estates?
Home owners in the Lohunda housing estate in Clonsilla, County Dublin are not happy that they have been left living in a derelict building site. Neither Dublin County Council nor the builders seem willing to fix the problems.
Roads remain unfinished and the planned number of houses have not been constructed by developer E&J Lynam. Manhole covers have never been placed over drains so children cannot be allowed out to play unsupervised. Rubbish is being dumped on vacant sites. According to one resident,
It's really a parent's nightmare.
In the process of trying to fix all these problems, members of Lohunda Residents Association are frustrated with the lack of engagement between the developer E&J Lynam, and Dublin County Council, who they say are not enforcing planning laws,
Both sides seem to be polarised now in their positions.
In neighbouring Hartstown, the builders signed the required funds for landscaping their housing estates over to Dublin County Council seven years ago, but no works have taken place.
Green spaces in some public areas have now become rat infested, and despite best efforts of local people to get a commitment from the council to do something about it, nothing has happened. A sense of disillusionment is growing, says one lady,
You might as well be beating your head against a stone wall.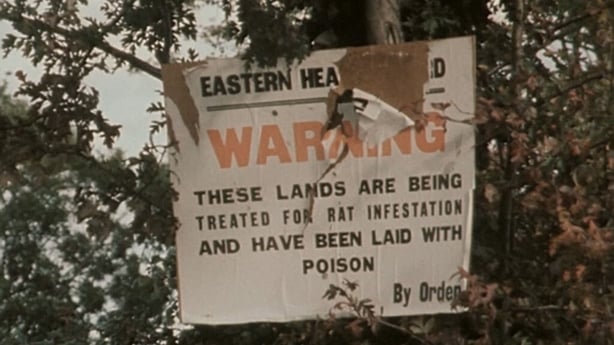 Eastern Health Board rat poison notice (1984)
Councillor Mary Harney maintains that the planning laws are ineffective, as developers do not seem to care about court appearances over unfinished estates, for which the taxpayer will end up footing the bill,
If they fail in their responsibilities to finish a housing estate, it should not be the public purse that has to pay for that.
Local authorities can require builders or developers to lodge a bond of security with them to cover the costs of finishing off an estate if a developer fails to do so.
The Construction Industry Federation (CIF) is one institution who runs its own bonding scheme, and claims it has a good success rate to date. However not all builders are members of the CIF and many members of the federation are not part of the bond scheme. A CIF spokeswoman points out that all planning applications require the builder to provide security bonds for the completion of housing estates.
As regards the problems in Clonsilla however,
I wouldn't condone any builder who leaves an estate unfinished, but I'm not familiar with the details of the Lynam case.
This report for 'Today Tonight' was broadcast on 8 November 1984.