A high demand for accommodation in Dublin combined with no control on rents or housing standards has created a market geared towards landlords.
Tommy and Margaret Smith from Bluebell in Dublin live in a cramped, damp, one-roomed flat in Inchicore with their baby. Their present situation finds Tommy spending more than half his wages on the flat, leaving the family with £5 to live on for the week.
Their only hope for a future is a council house, but with 5000 on Dublin Corporation's housing list competition is stiff. People seeking rental accommodation in the city complain the prices are too high and the flats, often in poor condition, are too small. The standard price for a one room bedsitter flat is £6. One woman who has been to see two flats says
They don't want married couples, or you know the rent is £8 and that, just for maybe, one room and a kitchen.
One landlord interviewed is delighted with the number of potential tenants seeking to rent his eight bedsitters. When questioned about the rent of £7 per bedsitter he says,
I think it's a fair figure and I don't have any bother getting clients for this.
The figure is arbitrary and fixed by the landlord and unsurprisingly there is landlord opposition to rent control.
A '7 Days' report broadcast on 15 February 1972. The reporter is Bill O'Herlihy.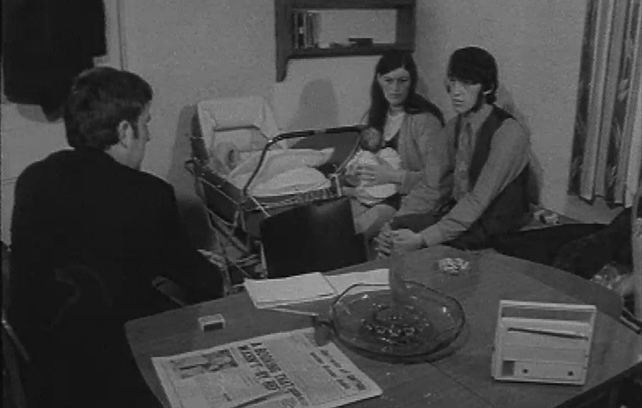 Bill O'Herlihy interviewing Margaret and Tommy Smith.