Without flaunting it Irish country homes aim to demonstrate classical restraint and social superiority.
The 18th century was when many of the estates belonging to the landowning classes of Ireland were designed and constructed, with roads, rivers and towns were re-routed and re-sited.
A man's house is his castle, as the saying goes, and Georgian-era architects took this to new concept to new heights. Classical restraint was key, and beautifully laid out parkland and gardens replaced older medieval defence features,
Vertical lines had given away to horizontal, the portcullis to the portico, the battlement to the pediment, the loophole to the amply proportioned sash window.
The 18th century landowner preferred the so-called 'natural style' of landscape gardening. From his house he had a view of smooth grassy slopes, trees planted at pleasing intervals, and a large water feature. To create all of this, houses were moved; streams diverted, roads re-routed and thousands of tons of earth dug up,
Far from being natural, these handsome pleasure grounds were costly works of art.
In addition to the park, many demesnes either had a farm, or leased the land to local farmers on a yearly basis. These often vast spaces that surrounded the big house had a specific role in mind,
We might almost see them as the descendants of the rath, the castle bailey, or the 17th century planter's bawn. Space itself was now a sufficient barrier.
Most great Irish houses were built prior to the Famine, and their encompassing walls were often built as a means of providing employment to the local community when times were hard. House building continued on into the 19th century, albeit with a move towards a different and more individualistic style, evident at Shelton Abbey in County Wicklow, Johnstown Castle in County Wexford, and Lough Rynn in County Leitrim.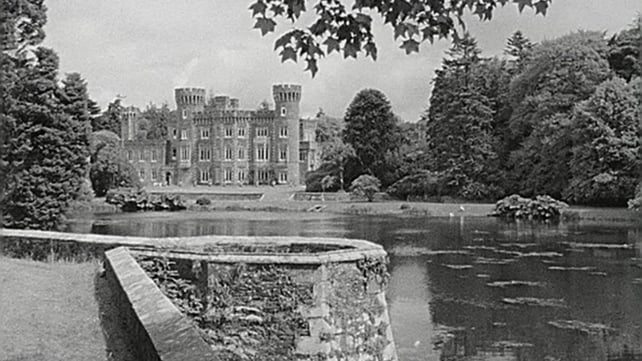 Johnstown Castle, County Wexford (1969)
'Irish Landscape' was a series exploring the many factors contributing to the landscape in which we live.
This episode of 'Irish Landscape' was broadcast on 9 January 1969. The reporter is David Timlin.