A large model of the Pro-Cathedral in Dublin found in the attic of the church goes on display to the public.
St Mary's Pro-Cathedral in Dublin, tucked away on Marlborough Street behind the city's main thoroughfare has housed a hidden gem in its attic for over one hundred years.
An early architectural model discovered is being restored by Dr Edward McParland, a lecturer in the Department of the History of Art, Trinity College.
Made of wood and hand carved in great detail, it was initially constructed as a point of reference for the Pro-Cathedral's builders but was also used to raise funds for the construction of the building. At one stage members of the public could pay a small fee to view the model.
In 1814 a public competition had been announced by Dr John Troy, Archbishop of Dublin, inviting designs for a new church to be built on the site of what had been Lord Annesley's Dublin townhouse on the corner of Marlborough Street.
Over the years there have been many attempts to identify the architect, but who that remains a mystery, as
The competition was won by a pseudonymous entry that was labelled 'P'.
Construction commenced in 1815, and like many buildings, how the Pro-Cathedral looks now differs from the architect's original vision. One obvious difference is how the ceiling was intended to look, prior to the inclusion of a dome. It was to be,
This marvellous barrel vault stretching from one end of the church to the other.
Built in the Greek Revival style, Edward McParland believes that the edifice of the Pro-Cathedral shares a fate with many fine buildings in Ireland, in that,
It doesn't get the type of recognition which it deserves.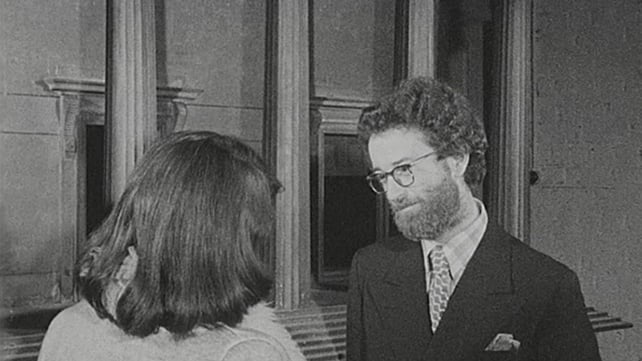 Dr Edward McParland and Doireann Ní Bhriain (1974)
Many people, both Dubliners and visitors, will have passed by the Pro-Cathedral over the years and wondered why such a significant building was built in the shadow of O'Connell Street. Given the background of the Penal Laws, and the slow process of Catholic Emancipation, restrictions were in place regarding locations for proposed sites of Catholic churches, and their bells and steeples. The Greek Revival style of the building, however, involved lateral thinking by the architect.
This managed to get away with being a terrifically ostentatious piece of work, without a steeple.
The architectural model will be on display to the public every afternoon for the next seven days during the City Arts Festival. Large enough for a person to get into and walk up and down on the inside, it will provide the visitor with a trip back in time, recreating
Some of the original splendour that was intended for the church.
This episode of 'Tangents' was broadcast on 8 March 1974. The reporter is Doireann Ní Bhriain.