There are fears that St George's Church in Dublin's north inner city will fall into disrepair unless ownership is taken for the preservation and protection of the building.
St George's Church in Hardwicke Place, Temple Street, Dublin was built between 1802 and 1813 by the architect Francis Johnston. With its graceful 200 foot spire, the church is considered to be one of his finest works.
The Reverend Cecil Faull voices his frustration over how St George's Church is to be preserved and protected for the future. There is a preservation order on the building which means
We cannot adapt a church to any other purpose and we can't do anything with it that would spoil its Georgian character and we are then responsible for maintaining it in a good condition and showing it off to the city of Dublin.
The preservation is too big a responsibility for the Church of Ireland to take on by itself, as the funds required for the task are astronomical.
A church would hardly be justified in spending that sort of money on bricks and mortar.
The Reverend has been in touch with a number of preservation societies in the hope of assistance but has found they are not concerned with building project tasks.
The matter of who will ultimately take responsibility for the preservation of the church remains to be seen.
After years of unsuccessfully trying to raise funds for the restoration, the Church of Ireland sold St George's in 1991.
An RTÉ News report broadcast on 20 April 1978. The reporter is George Devlin.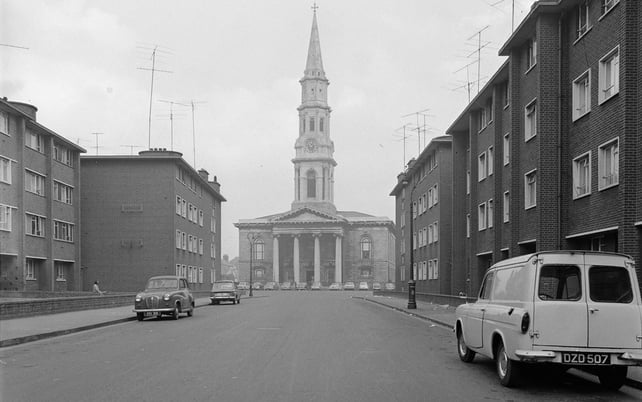 St George's Church photographed from Hardwicke Street, circa 1966.