Found to be in a perilous structural condition, the Gate Theatre in Dublin is closed for a three month period while a major refurbishment project is undertaken.
The Gate Theatre was established by Hilton Edwards and Micheál Mac Liammóir in 1928. However the building housing the theatre dates from 1785. It was designed by architect Richard Johnston with James Gandon as acting consultant.
Artistic Director of the Gate Theatre Michael Colgan explains that cracks were found in the 18th century wooden beams supporting the theatre. The Gate and its owner the Rotunda Hospital jointly raised the money to put in six paired trusses supplemented by steel rods.
The age of the building meant inserting these beams to support the floor was problematic. Also the Gate's auditorium is above the Pillar Room of the Rotunda and the plaster-work on this ceiling had to be protected because of its architectural importance. Architect Eoin O'Morain explains the work that had to be undertaken.
The rejuvenated theatre will boast a raised proscenium arch and an improved floor rake for 371 seats, giving patrons a clearer view of the stage. Additional refurbishment costs are required however and find the remaining amount, the Gate has set up a seat endowment scheme through which patrons can help by sponsoring a seat.
We're looking to the pubic first really, our patrons, the people who come regularly to help us to raise most of the rest.
For a £250 donation, a plaque bearing the sponsor's name will be displayed on the seat for a ten year period.
An RTÉ News report by Colm Connolly broadcast on 17 January 1992.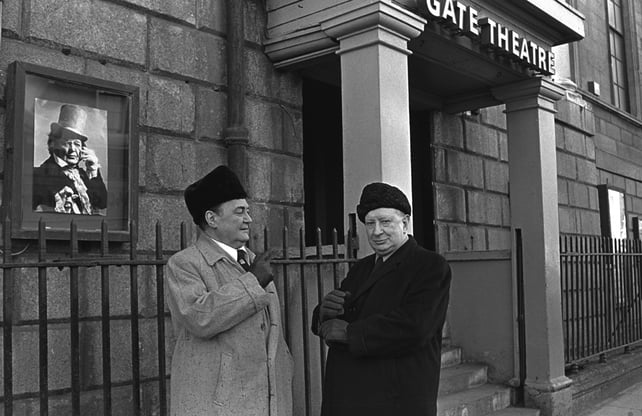 Mícheál Mac Liammóir and Hilton Edwards outside the Gate theatre in 1975.