Seamus Heaney and Sean McBride join a large crowd to see the unveiling of a sculpture to honour Nelson Mandela.
A large number of people gathered in Merrion Square for the occasion, and in doing so remember that this is Nelson Mandela's 24th year in prison. Among the dignitaries paying tribute to the imprisoned leader of the African National Congress were founding member of Amnesty International Sean MacBride, TD Ruairi Quinn, poet Seamus Heaney, and Chief Representative of the ANC in Britain and Ireland Ruth Mompati.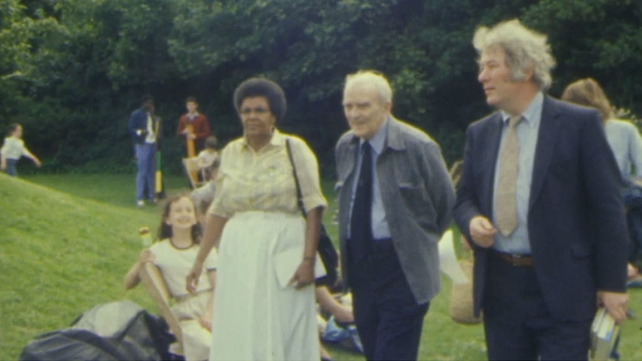 Ruth Mompati, Sean MacBride and Seamus Heaney, Merrion Square (1983)
The Army Band performs and historian, writer and broadcaster Éamonn Mac Thomáis is master of ceremonies.
Also present are Kennedy Apoe, Dublin City Manager Frank Feely, artist Louis le Brocquy and Kadar Asmal, founder of the Irish Anti-Apartheid Movement.
Seamus Heaney recites his poem 'Digging' prior to the unveiling of the sculpture by Lord Mayor of Dublin Dan Browne. Cast in bronze, the tribute head by British sculptor Elisabeth Frink is one in a series of works she has created as a tribute to Amnesty International.
An RTÉ News report broadcast on 26 June 1983.