A new exhibition from RTÉ Archives tells the story of the Dunnes Stores strike against apartheid.
The Dunnes Stores strike began on 19 July 1984 when 21-year-old check-out operator Mary Manning was suspended from Dunnes Stores for refusing to handle South African grapefruit.Nine of her colleagues walked out in support of her that day, beginning a strike that would last for two years and nine months. The more the strikers learned about life in South Africa, the more determined they became not to give in.
This RTÉ News report by Maggie O'Kane explains the apartheid regime in South Africa as a background to the Dunnes Stores strike. Her report shows the shanty conditions in the townships where 3.5 million black South Africans have been forced to live. O'Kane meets Manning and her shop steward Karen Gearon on the picket line outside the Henry St branch of Dunnes in Dublin. Anthony Bolger, a shopkeeper who refuses to stock South African goods, admires them, but they don't get the same sympathy from the Moore St traders.
An RTÉ News report from 23 October 1984.
Dunnes Stores Workers Against Apartheid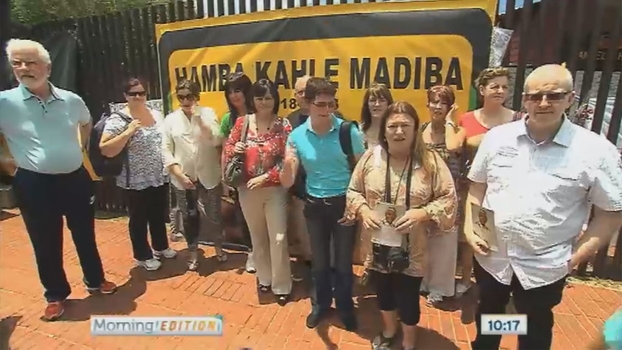 Dunnes Stores strikers outside Mandela House in Soweto, South Africa, 2013