On 1 July 1990 Nelson Mandela arrived in Dublin to fulfil a promise to the people of Dublin.
Two years previously while still in a South African jail, Nelson Mandela was honoured as a freeman of the city of Dublin and vowed to come and collect that honour some day.
1 July 1990 was a busy day at Dublin Airport. Not only did the Republic of Ireland team arrive home after their success at Italia 90, but ANC Leader Nelson Mandela and his wife Winnie arrived for a two day visit. They were greeted at Dublin Airport by Minister for Foreign Affairs Gerard Collins. Speaking on his arrival Nelson Mandela had a message for the people of Ireland.
We have received wonderful support from the people of Ireland in the course of our anti-apartheid struggle. We call upon them to maintain that support.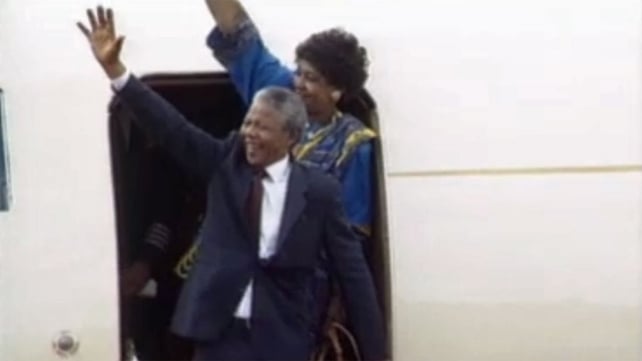 Nelson and Winnie Mandela at Dublin Airport (1990)
Later that afternoon Mr. Mandela had the opportunity to meet with some of the Dunnes Stores workers who had been on strike for three years highlighting the abuses of the apartheid regime in South Africa.
At a ceremony in the Mansion House Dublin Nelson Mandela received the Freedom of the City. Addressing the crowd at the Mansion House, he congratulated the wonderful Irish football team and spoke of the support that the Irish people have given to the South African cause.
You have given refuge and aid to so many South Africans. And for this, we are deeply grateful.
An RTÉ News report broadcast on 1 July 1990. The reporter is Charlie Bird.