An Irish language Winter School in Clare celebrates the poet and teacher Brian Merriman with poetry and music.
This report opens with a recital by Irish language poet and academic Seán Ó Tuama.
Reporter Doireann Ní Bhriain talks to Eoghan Ó hAnluain, lecturer at the Department of Modern Irish at University College Dublin and Chairman of Cumann Merriman. He explains why an caoineadh (the lament) was chosen as the theme of this year's winter school.
Is rud an-bunúsach i saol na hÉireann an caoineadh...tá tuairisc ar sa litríocht, agus ón eolas atá again ar shaol sóisialta na tíre, ba chuid é do imeachtaí saol na ndaoine i gcónaí riamh, go dtí an lá atá inniu ann.
Seán MacReamoinn, Head of External Affairs at RTÉ, announces the winner of the RTÉ sponsored prize for new traditional music composition. Flautist Josie McDermott was chosen as the winner, having beaten over 100 other entrants in the competition. Here he performs performs 'Lament For A Fiddle Player'.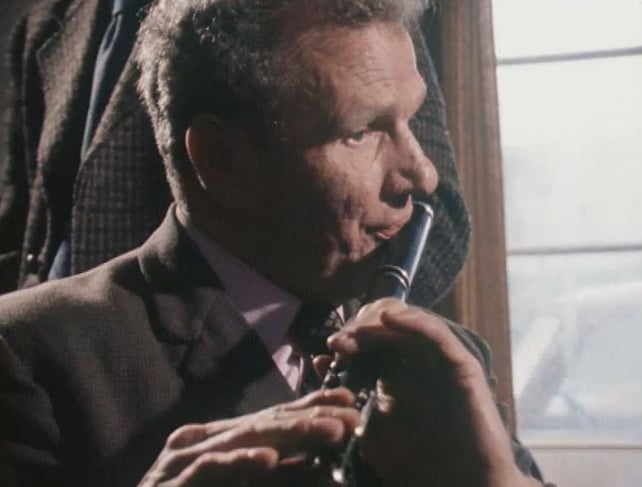 Josie McDermott Flautist
This episode of 'P.M.' was broadcast on 2 February 1978. The reporter is Doireann Ní Bhriain.
'P.M.' was a magazine series reporting on aspects of Irish life with interludes for music from Irish performers. The series first began on Tuesday, 20 September, 1977 and was initially aired three nights a week on Tuesday, Wednesday and Thursday at 7.00pm on RTÉ 1. The original presenters John O'Donoghue, Áine O'Connor, Nicholas Coffey and Doireann Ní Bhriain were later joined by Pat Kenny. "As editor Noel Smyth sees it, the Tuesday programme will consist mainly of film reports on topical events anywhere in Ireland, the Wednesday edition will concentrate on studio discussions, and the Thursday programme will be in Irish, with just as wide a brief as the other two." (RTÉ Guide, 16 September, 1977, Vol.1, No.37, p.18)
'P.M.' ran until Thursday, 12 April, 1979.