The Man from Clare, traditional musician Micho Russell
Irish musician Micho Russell was born on 25 March 1915.
As a tribute to the legendary musician and tin whistle player, a look at a 'Cursaí' profile of Micho from his home in Doolin, county Clare.
In this excerpt from the programme Micho tells Tadgh Mac Dhonnagháin about growing up in Doolin, the music he listened to, the musicians in his family, and taking up the whistle. Micho plays an old tune by Micheál Ó Donnchu and sings "as Gaeilge" and in English. He also talks about his unique style of playing the whistle.
Micho Russell died in 1994.
This episode of Cursaí was first broadcast in June 1990.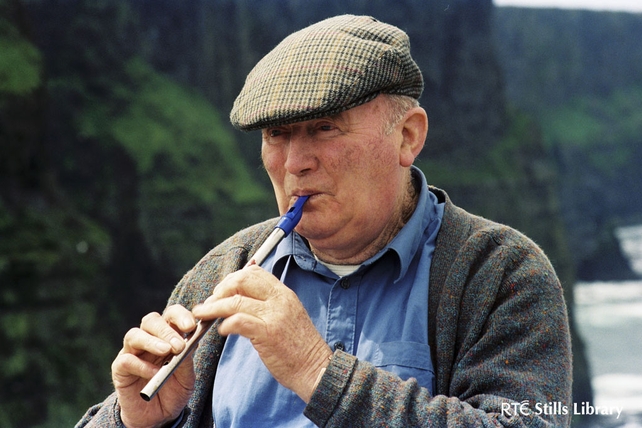 Micho Russell at the Cliffs of Moher (1992)
'Cúrsaí' was an Irish-language television magazine programme. It was first broadcast on 14 October 1986 with Neasa Ní Chinnéide and Seán Ó Tuairisg as presenters. It was originally billed as "iris-chlár le béim faoi leith ar chúrsaí reatha an lae agus ar chúrsaí na tíre i gcoitinne" (RTÉ Guide, 17 October 1986). However it covered a wide range of topics, including politics, current affairs, arts and entertainment. 'Cursaí' was broadcast four nights a week, from Tuesday to Friday, on RTÉ 2. It ended on 30 May 1995.