Recorded at the National Stadium in Dublin on 10 December 1975 'On Stage At The Stadium' features rock band Thin Lizzy with the line-up of Phil Lynott on bass and vocals, Brian Downey on drums and dual lead guitarists Scott Gorham and Brian Robertson.
The band perform 'Sha La La' from their 1974 album 'Nightlife'. The song is written by Phil Lynott and Brian Downey of whom Lynott says
I happen to believe very sincerely that this fella is one of the best drummers about.
Downey then lives up to his reputation with some tour de force drumming, to the obvious delight of an air-drumming audience member. During the performance, Lynott dons a wolfman mask and channelling his inner Elvis Presley feigns a collapse and is taken off stage by a roadie.
As the band segue from 'Sha La La' into the next number, Lynott asks the bouncers to relax their control of the seated audience.
Leave them enjoy themselves, if they wanna stand up, let them stand up.
'On Stage at the Stadium: Thin Lizzy' was broadcast on 12 July 1976. The first part of this concert was broadcast on 21 January 1976.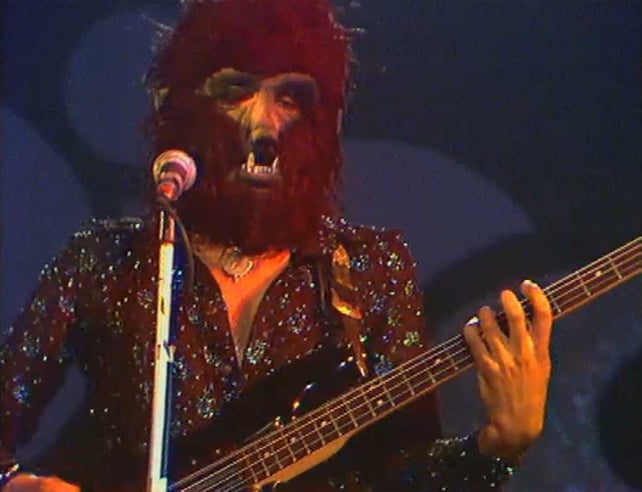 Wolfman Phil Lynott on stage in the National Stadium in Dublin.