A visit to the Viking site at Wood Quay where excavations are underway ahead of the building of civic offices.
In 1980 the programme 'Sense of Excellence' examined the neglect and destruction of Irish heritage with a visit to the Viking site at Wood Quay, Dublin.
This site was one of the richest Viking sites in the world. However, during the 1970s it was a site of much public debate as plans were afoot to build civic offices on the site. The 'Save Wood Quay' campaign was one of the most intense mobilisations of public opposition on a subject of cultural heritage in the history of the state.
Throughout the State, since its foundation, we desecrated and preserved, built well and badly, shown loving care as well as terrible indifference.
UCD's Professor Kevin Nolan displays some of the finds from the excavations which are ongoing on the site at Wood Quay and emphasises the need for a national plan.
'Sense of Excellence - What have they done to my Island?' provides a survey of neglect and destruction of heritage, of houses great and small, inappropriate additions to historic places, new concrete eruptions in cities, fake brick, lack of tradition, the battles of Wood Quay and Hume Street, and new developments at Ringsend and The Coombe.
The programme was written and presented by Justin Keating. 'Sense of Excellence: What Have They Done To My Island?' was broadcast on 30 April 1980.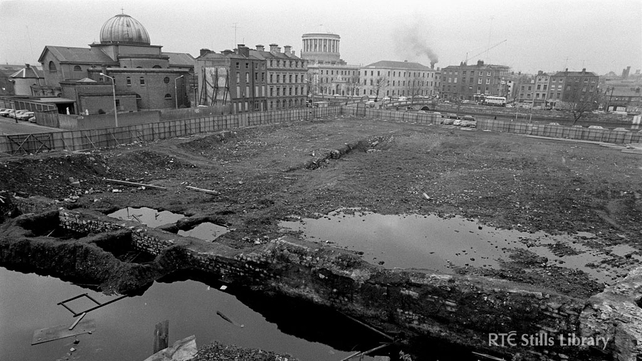 Excavations at Wood Quay, Dublin