'Jo-Maxi' revisits the Wood Quay protests of 1978 in this report on the importance of archaeology.
The construction of civic offices on the site of a Viking settlement at Wood Quay in Dublin caused one of the most intense campaigns of public outcry on the subject of archaeological heritage in the history of the state. The footage shows various shots of protests and destruction and construction on the site and features President to be Mary Robinson, who provided legal representation for the 'Save Wood Quay' campaign.
Thousands of people marched for the preservation of Dublin's archaeological heritage.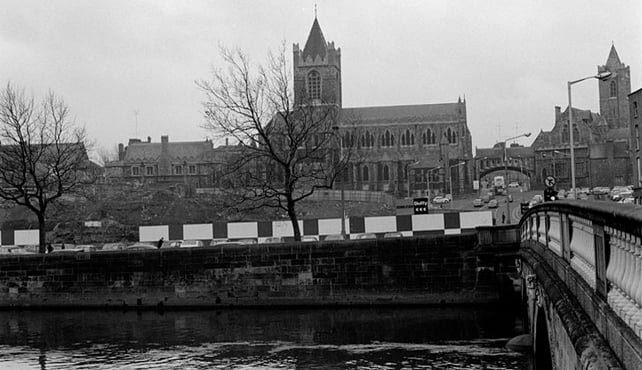 Wood Quay and Christ Church
Presenter Margaret O'Donoghue meets Andy Halpin, City Archaeologist with Dublin Corporation, who describes his work as an adviser to Dublin Corporation as they strive to develop the city and at the same time preserve its heritage. He also shows some of the artefacts which he has discovered on archaeological digs in Dublin city including a shoe which was found about three metres below ground level.
What we're doing is really trying to find out how people lived in Dublin and how the town of Dublin functioned and developed.
The report also shows illustrations of Wood Quay over a one thousand year period whic are taken from a book 'Dublin: One Thousand Years of Wood Quay' by Jonathan Barden and Stephen Conlin.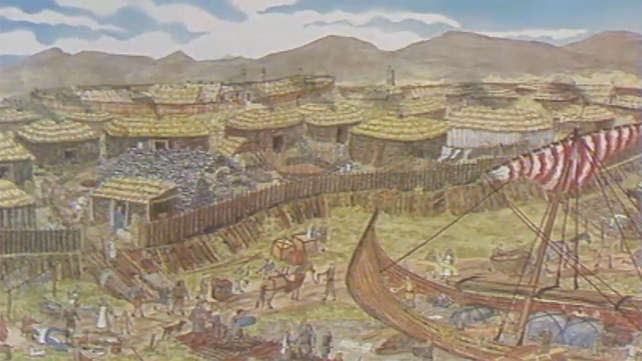 Wood Quay Illustrated
This episode of 'Jo-Maxi' was broadcast on 5 December 1991.