The Belltable Arts Centre in Limerick hosts finals for one act plays presented by amateur drama groups.
Local groups from throughout Ireland take to the stage at the Belltable in Limerick to compete for the title of the All Ireland One-Act Drama champions.
The best drama groups from all over Ireland are attending in a play-off literally that will decide the finest performance.
The Belltable has been doing brisk business throughout the festival and the standard has been high according to festival organisers.
One of the participating actors is Carole Greene who praises the facilities at the Belltable and the welcome received from the Limerick organisers.
We're here just for the fun of it. If we win, it would be great.
Actor Paul Mescal of the Insight Theatre Group from Celbridge is in rehearsals for a production of Alan Ayckbourn's 'A Cut in the Rates'. He says he is not nervous now but will be before taking to the stage.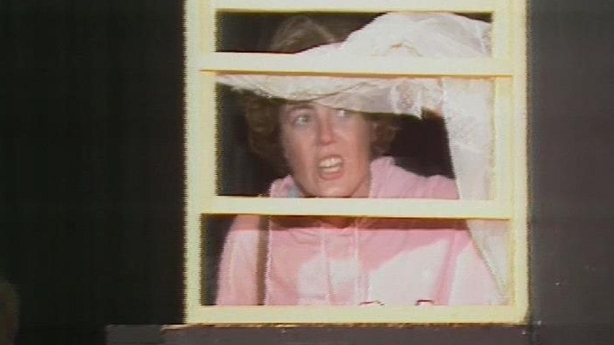 Festival organiser Helen Morrissey explains that the event is for people who are dedicated to producing drama at a local level.
It's their life. It's part of their everyday living.
An RTÉ News report broadcast on 6 December 1992. The reporter is Gerry Reynolds.
The Gaslight Theatre Company from Kilkenny were the overall winners of the All-Ireland One Act Drama Festival.