Young actors and musicians express themselves during a festival of Irish drama at Dublin Castle.
These young people were chosen from the thriving youth theatre sector to take part in the National Festival of Youth Theatres. For two days only, the upper courtyard in Dublin Castle has been transformed into a 19th century fair. Ninety-six actors and musicians from the country's seventy-five youth theatres will take part in 'The Bards in the Yard'.
Rehearsals have been taking place all week with the stars of the show being put through their paces by the directors and tutors.
Joseph Benkanoun of the Carlow Youth Theatre describes the rehearsals as tough and intensive but enjoyable at the same time. Suzanne Yates, also of the Carlow Youth Theatre, encourages other young people hoping to pursue a career in acting to get involved with their local youth theatre. Katie Kelly from Ardagh in County Mayo finds the theatre group to be a good place to express her emotions.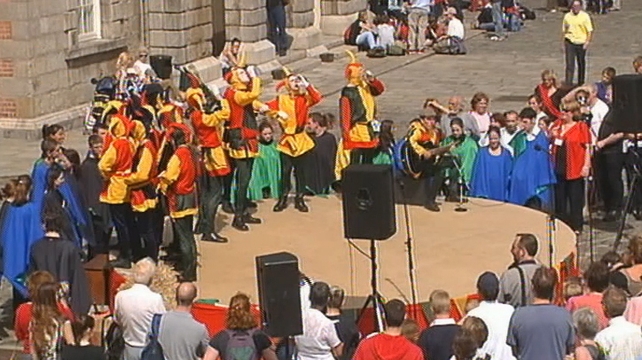 National Festival of Youth Theatres at Dublin Castle (2003)
The teenage actors and musicians will perform extracts from Irish theatre from 1639 to 1937. Anne Gilligan, Director of the National Association for Youth Drama, explains why they have selected to perform pieces from scripts which aren't so readily accessible. While researching the scripts, Anne had to consult texts from the National Library, the Royal Irish Academy and the Linen Hall Library, many of which had not been looked at for a long time.
Artistic Director of 'Bards in the Yard' Rebecca Bartlett is upbeat about the mood in the youth theatre sector.
It gives them confidence, makes them aware of themselves, and they get to meet people that they might not come across...
An RTÉ News report broadcast on 18 July 2003. The reporter is Anthony Murnane.