Showjumper Iris Kellett talks about recent success, future plans and her horses Rusty, Starlet and Dusky.
Iris Kellett became the first civilian to accompany the Irish army showjumping team on a trip to the International Horse Show at White City in London in 1949. She won the Queen Elizabeth Ladies Trophy.
She talks to reporter PP O'Reilly about upcoming events including a trip to Harringay in north London in September with an Irish showjumping team. She has also been asked to take part in a show in Lucerne in Switzerland next year.
The most recent victory for Iris Kellett was achieved riding her horse Rusty for who she has nothing but praise. Rusty is now 12 years old and the hope is that he will continue to jump for another seven or eight years.
I think he is the most wonderful horse that anyone could possibly have. I know that I will never have another one as wonderful as he is.

Showjumper Iris Kellett on Rusty, Cashman Collection
Starlet is at the beginning of her career at just eight years old. Starlet has been jumping for just two seasons and many believe that she is more brilliant than Rusty.
Her third horse, Dusky, has not been performing so well recently.
This interview was recorded on 5 August 1949. The reporter is PP O'Reilly.
From the RTÉ Archives Acetate Disc Collection which has been digitised with the support of the Broadcasting Authority of Ireland (BAI) Archiving Scheme.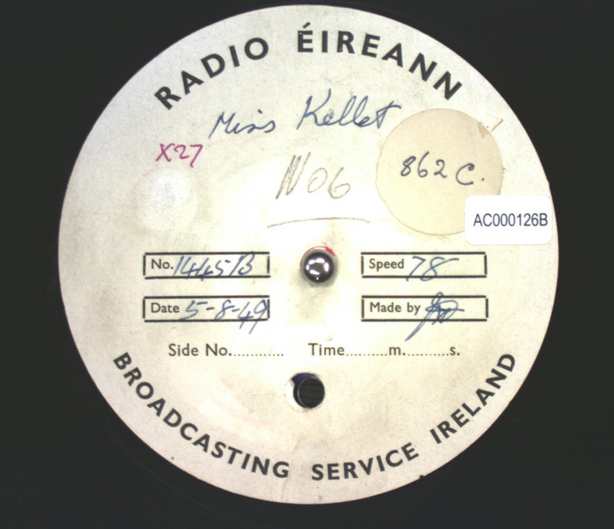 Acetate Disc Collection (1949) - Showjumper Iris Kellett QAC000126B
Iris Kellett was the first Irish rider to win the Irish Grand Prix in the Royal Dublin Society (RDS), Dublin in 1948. She went on to win two Queen Elizabeth Ladies Trophies, both on her horse Rusty, in 1949 and 1951. Later in her career, she won the Ladies European Championship on the horse Morning Light in 1969. Iris later became a trainer for many Irish jockeys with her Kellett Riding School opening in Kill in 1974. In 1986, Iris Kellett was inducted into the Texaco Sports Hall of Fame. Iris Kellett died in 2011 at the age of 85.