Michael Cunniss is so obsessed with horses that even his house on Bohermore Road, Galway has horseshoe shaped windows.
Michael Cunniss has been breeding, training and working horses since he was a child. Reporter Jim Fahy chats to Michael as they travel in his Landau carriage. The carriage was originally owned by the Great Southern Hotel. Michael explains where his interest in horses stemmed from.
A man who hasn't allowed the fact that he lives right in the centre of a city with a population close on 40,000 people to interfere in any way with his lifelong association with horses.
Michael feels it's important to have horses as an environmentally-friendly form of transport in the city and for the tourists and believes that today's farmers will perish without horses.
These smelly old cars going along the road are desperate.
Michael's love for horses is so strong that he says,
I wouldn't stay in my own house without a horse. I'd have to know that there's a horse there, out the back.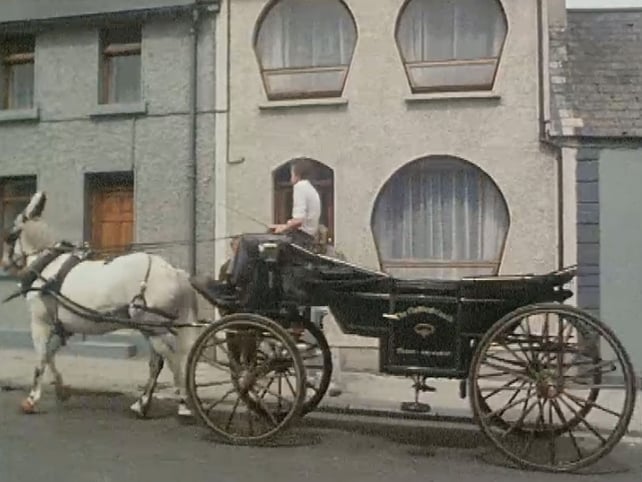 Michael Cunniss's House on Bohermore Road, Galway
Michael dreams of one day setting up a coach and carriage club. His own house is a veritable museum to horses full of decorative items and photographs, a collection which he has gathered over a twenty year period. Luckily for Michael, his family shares his extraordinary interest in horses. Even as the Cunniss family watch television a horse sticks its head through a hatch in the living room.
This report for 'Ireland's Eye' was broadcast on 28 July 1982. The reporter is Jim Fahy.