Ponies are running wild on Limerick housing estates and the residents are not happy.
Southill Residents Association in Limerick hold a public meeting to discuss what they describe as a plague of horses which have been rampaging through their estate munching the grass on their lawns, knocking over bins, damaging fences and putting residents in danger. The problem is not exclusive to Southill and is evident throughout the city of Limerick.
This has been a plague up here in Southill as it's been a plague all over Limerick.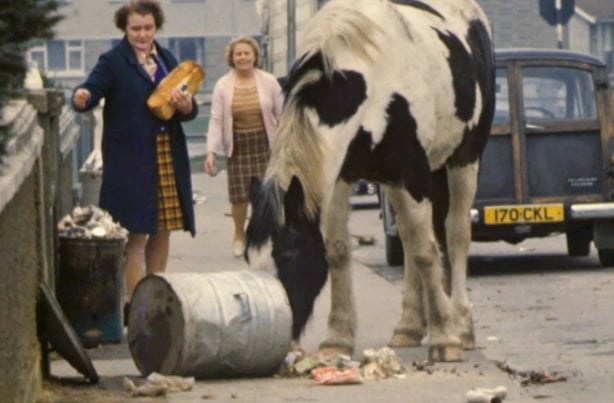 Limerick Horses Running Wild in Southill (1975)
One resident says at any time day or night dozens of horses can be seen tramping through Limerick estates. He describes how it is impossible for residents to keep their gardens and the streets are continuously littered with rubbish. Many residents do not even let their children out to play on the streets for fear of the horses. On one occasion recently a child was severely injured by a horse. Many residents have been put in danger. One incident involved a committee member of the Southill Residents Association being threatened by around a dozen people, many of whom were on horseback. The resident in question describes how he was intimidated by the gang.
Like a scene from one of those westerns.
Horse owner Bob O'Donoghue denies any responsibility for the straying animals or the intimidation. A spokesperson for the residents association argues that Mr O'Donoghue is making a fortune from breeding what he describes as "residential horses".
'Newsround' broadcast on 16 November 1975. The reporter is Conor McAnally.