Éamonn MacThomáis provides a history of Dublin's Ha'penny Bridge.
From the bridge Éamonn MacThomáis admires the view on both sides of the River Liffey. He visits Webb's Book Shop on the quays where he provides some lessons in history and literature. On a stroll through Crown Alley he meets some buskers and visits the Ha'penny Bridge Book Shop before returning to the bridge to be entertained by a fiddler.
Until 1917 there was a charge of half a penny to cross the bridge. The turnstiles on either side of river were removed in 1919. Before the bridge a ferry service carried passengers across the river. The cast iron pedestrian bridge was built in 1816 by Liffey ferry operator Willie Walsh and John Claudius Beresford of Dublin Corporation. Willie Walsh had seven ferries operating at various points along the Liffey. However, when his boats went into disrepair, he turned to building bridges. Walsh was given permission by Dublin Corporation to collect a toll from anyone crossing the bridge for a period of 100 years.
'Dublin - A Personal View Halfpenny Bridge to Maro' was broadcast on 30 November 1983.
'Dublin - A Personal View' was a six part series written and presented by Éamonn MacThomáis, and produced by David-Shaw Smith for RTÉ.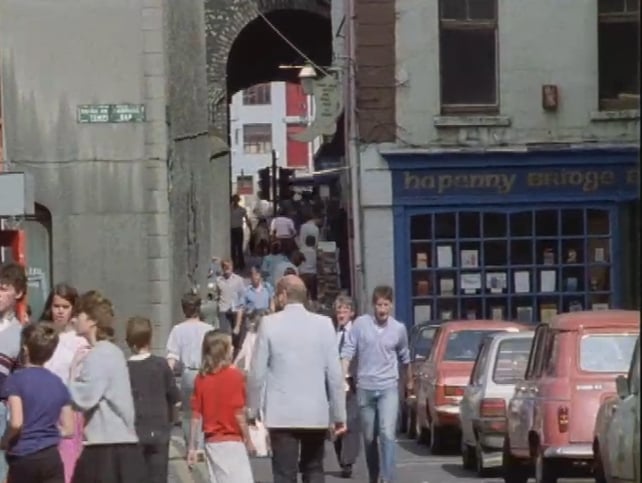 Crown Alley (1983)