A Swiss Olympian and an American astronaut are among those attending the annual Dublin Horse Show.
The 110th Dublin Horse Show is underway in the RDS (Royal Dublin Society). It is not just about the equestrian events, however as the show is worth half a million pounds to Irish horse breeders.
Returning after an absence of two years, the Swiss team are strong contenders for the Aga Khan trophy. Former Olympian and horse buyer and trainer Max Hauri and his sister Heidi Robbiani, also an Olympic medallist, are two of its members. Enjoying her stay in Dublin, Heidi appreciates Irish horses, as she tells reporter Mary Fanning,
I'm very pleased to come here to Dublin. I have three Irish horses...They are very good I think, but also the French horses are good, but I prefer the Irish horses.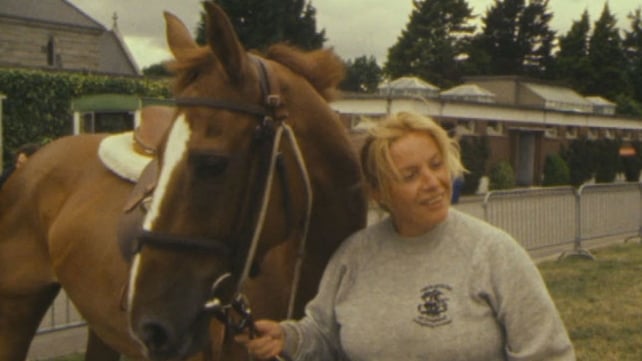 Heidi Robbiani and one of her horses in the RDS Showgrounds (1983)
In addition to watching the thoroughbreds and their riders, there will be the opportunity to attend a talk by American astronaut Doctor Norman Thagard. A member of the NASA (National Aeronautics and Space Administration) space shuttle Challenger crew on its most recent mission in June. He will narrate a film about the Challenger's seventh flight.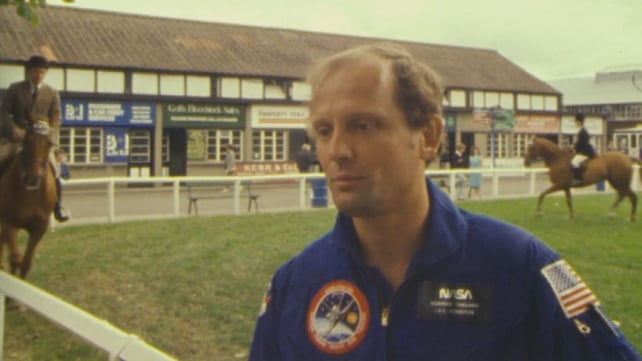 Astronaut Norman Thagard at the RDS (1983)
An RTÉ News report broadcast on 2 August 1983. The reporter is Mary Fanning.